David Haye trash talk upsets Wladimir Klitschko
Last updated on .From the section Boxing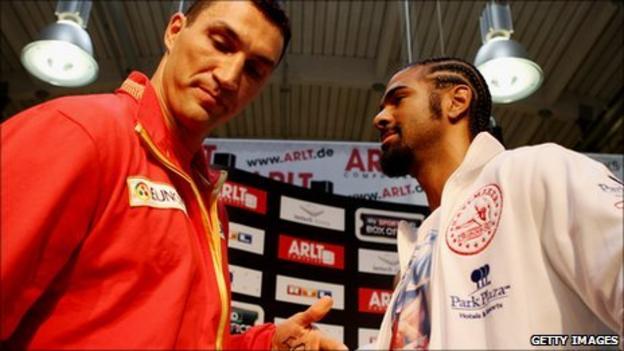 Wladimir Klitschko has called David Haye's pre-fight goading "disgraceful and disrespectful" ahead of Saturday's heavyweight title fight in Germany.
The Ukrainian was angered by the Londoner's comments about executions, decapitations and ambulances.
"This game, this sport, is very intense and unfortunately there have been a lot of cases where people have been handicapped and people have died during and after fights," said Klitschko.
"It's not something to joke about."
Britain's Haye, the WBA champion, previously wore a T-shirt showing him decapitating the Klitschko brothers (Wladimir and Vitali). He wore a new version of that on Monday.
And the 30-year-old added: "This is going to be the most brutal execution of a boxer that you've seen for many, many years.
"I'm going to go out there and absolutely destroy him, really quickly."
The Londoner also claimed Wladimir Klitschko's coach Emanuel Steward had told him he would "love" to help him beat his own fighter's brother, Vitali.
"Manny said he'd love to train me after I've bashed up Wladimir, his own fighter, on July 2," added Haye.
"He reckoned that if we joined forces I would be in prime position to take down Vitali later in the year. He was deadly serious about it, too."
However, Steward dismissed Haye's suggestion.
"This is just another one of Haye's dirty tricks to try and get under the skin of Wladimir," the veteran trainer said.
"It's just not true, A, and B, it would never happen because David Haye will get knocked out by Wladimir on Saturday night."
Haye also responded to a challenge made by Wladimir's brother Vitali - the WBC champion - on Monday.
Vitali, a potential future opponent for Haye, asked the Brit to guarantee he will face the media after the bout.
"I'm coming for you after the fight," said Haye.
"Don't go to the hospital with your brother. Make sure you're there, don't go with the ambulance."
It was a jibe that further angered 35-year-old Wladimir ahead of their fight in Hamburg.
"No matter what, it is disgraceful and disrespectful for a man to wish to damage your health," said the IBF and WBO champion.
"It's something you do not say. I felt embarrassed at the way David Haye acted in the press conference. Because it also casts a shadow on the sport.
"I think with all the wins that he got recently he became really cocky and totally big-headed."
Haye is no stranger to controversy and in November said his heavyweight title fight with Audley Harrison would be as "one-sided as a gang rape".
The Brit has also refused Wladimir's handshake every time it has been offered, creating further bad feeling between the two men.
And Haye, ever the entrepreneur, has also introduced a game to the burgeoning smartphone 'app' market called 'David Haye's Knockout', with users playing as Haye aiming to knock the head off a giant eastern European.