Enzo Maccarinelli back with coach Enzo Calzaghe
Last updated on .From the section Boxing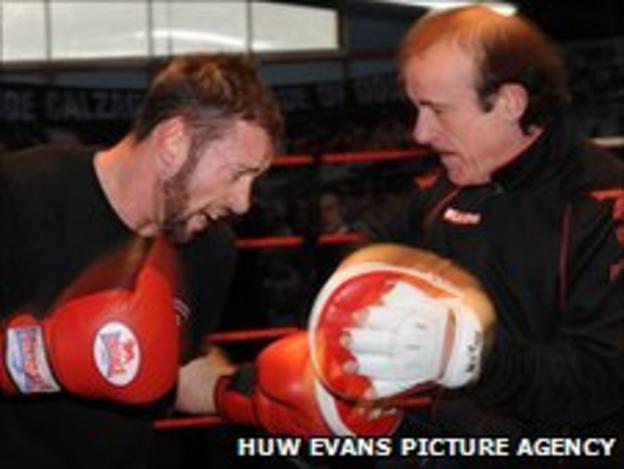 Enzo Maccarinelli has returned to former coach Enzo Calzaghe as he aims to resurrect his career by moving to the light-heavyweight division.
Calzaghe, who coached son Joe to be a two-weight world champion, is back training after a year-long break.
Maccarinelli, the former cruiserweight WBO world champion, hopes to fight again in September.
The Swansea boxer, 30, is keen to make a comeback despite suffering four defeats in his last eight bouts.
But Enzo Calzaghe believes Maccarinelli has the class to succeed again.
"I needed to let him understand where his problems were. Hopefully he understands where I'm coming from and he did," said Calzaghe.
"We spoke about the fact that he should go down to light-heavy which will accommodate him very well.
"Enzo is a class act… so I want to show that.
"I believe in him. He believes in me. We have been successful together that is the best part of it. We have been unsuccessful once we parted.
"I know for a fact that a guy who won five world title fights in succession is not a dud."
Maccarinelli, who will be off to Italy to prepare for his next fight, was highly-regarded during his successful four-defence reign of the WBO world cruiserweight crown between 2006 and 2008 when Calzaghe guided the Swansea boxer.
But the was demolished by rival David Haye in the cruiserweight unification 'Battle of Britain' showdown in London in March 2008.
The 6ft 4in fighter lost three of his next four fights, but did lift the European cruiserweight crown when he defeated Russian Alexander Kotlobay in St Petersburg inside the first round to claim the vacant belt in April 2010.
But Maccarinelli lost his Euro title against German Alexander Frenkel in a seventh-round knockout in September 2010.
The man dubbed 'Big Macc' will now fight in the 175lb division where he could face friend and fellow countryman Nathan Cleverly.
Maccarinelli challenged Cleverly to an all-Welsh clash after watching the 24-year-old mathematics graduate defend his WBO light-heavyweight belt for the first time against Aleksy Kuziemski in May.
"That's definitely a fight that's on the cards and what a big Welsh fight that would be - hopefully at Swansea's Liberty Stadium," said Maccarinelli after throwing down the challenge.
Cleverly has responded by saying he was targeting "the big American names".