Boxer Lee Haskins unfazed by 'mind games'
Last updated on .From the section Boxing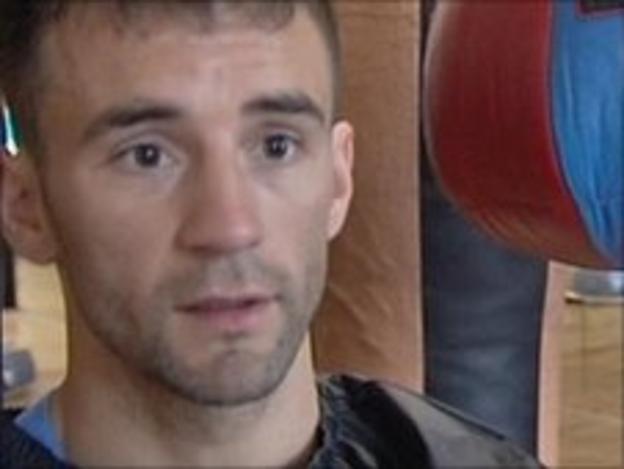 Lee Haskins says "mind tricks" will not faze him before his clash with Mohamed Boulegcha in Morocco.
Haskins' preparations for the WBA inter-continental and IBF International bantamweight title fight on Thursday were hampered at the weigh-in.
"I'm waiting here with no officials to weigh me as no one sent a driver for us so the other guy has weighed up and left," he told BBC Radio Bristol.
"They're playing a few mind tricks on us but I'm just focused on the fight."
He added: "All the runabout they've given me and all the obstacles they've put in my way, I'm just fuming. I want to get in there with him now."
Bristol-born Haskins, 27, has had a frustrating year with a string of scheduled fights being cancelled.
And he only received the invite to fight Bouleghcha, who is ranked 11th in the world, last week but is confident he can perform in front of the 25,000 crowd expected in Marrakech.
"I was just at home chilling out when I got a phone call asking if I wanted to fight for the intercontinental IBF title and it's something I couldn't really pass up," he said.
"I've had a week and a half to prepare for it - I haven't really had time to do my homework.
"But I'm just concentrating on myself. If I box up to my ability this fight will be no problem for me."
He added: "I haven't had a big fight for a while and I need to get the ball rolling and preparing for bigger things.
"To fight in front of 25,000 people will be amazing regardless of the outcome."