Carl Froch to fight Andre Ward on 29 October
Last updated on .From the section Boxing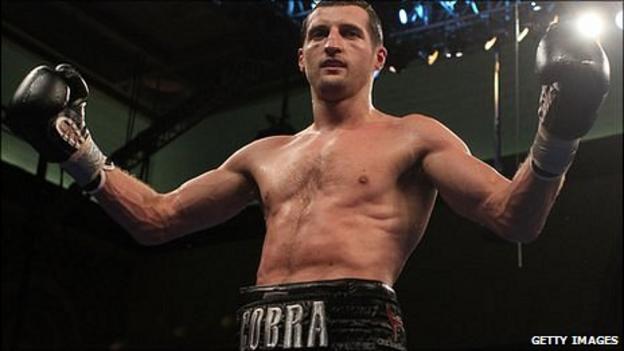 Britain's Carl Froch will fight American Andre Ward in the final of the Super Six boxing classic on 29 October in Atlantic City.
Froch, 34, will defend his WBC super-middleweight title against unbeaten Ward, who himself is the WBA champion.
The Nottingham fighter made the final after beating Glen Johnson in June.
"Atlantic City, October 29, can't wait, I'm buzzing! Come on the Cobra army... your support is awesome," Froch wrote on social networking site Twitter.
Froch's promoters Matchroom Sport also confirmed to BBC Sport the date and venue for the fight.
The fight will take place at the Boardwalk Hall and will see two of the four super-middleweight titles unified. Lucian Bute (IBF) and Robert Stieglitz (WBO) hold the other two belts.
"Going into a fight of this magnitude, I expect the toughest fight of my career," said Ward, a 2004 Olympic gold medallist.
"The Super Six has given me the opportunity to fight the best and, so far, I've been fortunate to beat the best.
"It's also given me the chance to do what I've always wanted to do and that's become undisputed champion. This fight brings me closer."
The winner of October's fight is then expected to meet Bute with the super-middleweight division being unified further.
"Not only is it for two world titles, but it's for the tournament trophy and The Ring belt is also on the line," said Froch.
"It makes this the biggest and the most prestigious fight to happen for as far back as I can remember.
"This has been a fantastic tournament. It has produced some amazing fights in our division, fights that certainly would not have happened otherwise. For the final, we have a great fight between two superior athletes."
Froch is aware how difficult October's fight is going to be against the unbeaten 27-year-old.
But the Nottingham fighter believes that his power will prove too much for the American.
"Ward is a boxer and mover who can be messy up close," said Froch.
"I can box when I need to and I have proven time and again that I can fight with the best of them. I have my natural fitness, a big heart, experience at the top level and the ability to take a punch.
"My punching power is far superior to Ward's. This will prove to be the deciding factor."