Nathan Cleverly considers Tony Bellew fight
Last updated on .From the section Boxing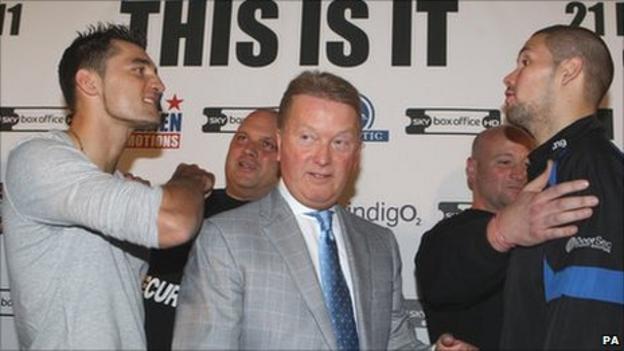 World light-heavyweight champion Nathan Cleverly is prepared to give British and Commonwealth title holder Tony Bellew a shot at his WBO belt.
Vince Cleverly, the Welshman's father and trainer, says if they can agree a purse then the fight will go ahead.
If the fight happened it would probably be held in Bellew's native Liverpool.
"I don't really think that Tony Bellew is at that standard yet to fight Nath, but if the money's there... we'll take the fight on," Vince Cleverly said.
"It would most probably be in Liverpool because that would make good business sense and that would be no problem for Nath.
"We'd fight him in a garden, there's no problem there. I know Nath can do the business with him... it won't make any difference to the result, I don't think so."
Bellew, 28, was in line to face Cleverly in May as a late replacement after Juergen Braehmer withdrew from his clash with the Welshman, but Bellew failed to make the weight after the Liverpool boxer taunted Cleverly in a press conference.
"The problem is Nathan just didn't expect Tony Bellew to turn up, and Tony Bellew got a little bit personal and I think it was uncalled for," Vince Cleverly said.
"Nathan was willing to fight him, willing to give him the fight then he backed down, he couldn't make the weight."
Cleverly went on to beat Aleksy Kuziemski to retain his WBO light-heavyweight title in May and at some point in the future must face a mandatory challenger, with Russian fighter Dmitry Sukhotsky currently the top ranked opponent.
A domestic clash with Bellew would be a more attractive next option for Cleverly, especially as the Liverpudlian recently beat Ovill McKenzie to add the British title to his belts.
However, WBA champion Beibut Shumenov has also challenged the 24-year-old to an unification bout in the United States.
"Nathan's there for Tony Bellew anytime, he could probably take this fight before we go for a mandatory challenger," added Vince Cleverly.
"But I know if this fight with Bellew doesn't come off soon then Nathan will have to fight a mandatory challenger, [Dmitry] Sukhotsky the Russian guy.
"But it's up to Frank, at the end of the day Frank Warren will guide us.
"As everybody knows he's the best promoter in the world and when Frank Warren gives his word, he keeps his word and... he's the man to guide Nathan into a fantastic career."