Tyson Fury in no rush to face Wladimir Klitschko
Last updated on .From the section Boxing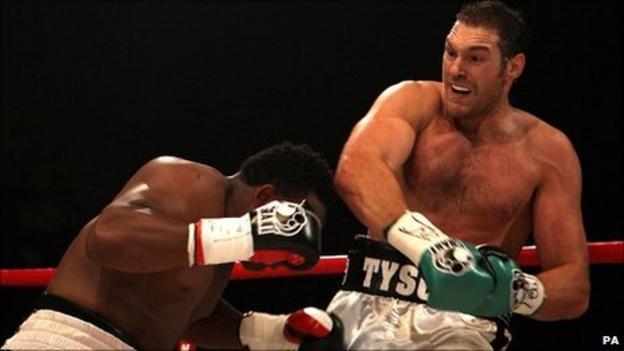 British and Commonwealth heavyweight champion Tyson Fury has set his sights on the Irish title instead of fighting one of the Klitschko brothers.
Fury, 23, beat Dereck Chisora on Saturday at Wembley and WBO, IBF and WBA champion Wladimir Klitschko has expressed interest in a showdown.
But Fury said: "I just want to do it nice and steady. I'll go for the Irish title then a defence of the British.
"Then maybe I can go for [Alexander] Dimitrenko who's got the European."
The 6ft 9in Fury earned the 15th victory of his professional career at Wembley Arena on Saturday with a comprehensive points win over a sluggish Chisora.
Klitschko, who beat David Haye on points in Hamburg earlier this month, said before the Fury-Chisora fight he would consider fighting the winner.
But Fury added: "I'm only just starting off at the moment. People like Carl Froch and Amir Khan - and David Haye until recently - are world champions and they've achieved more than me.
"Hopefully I can emulate what they've all done and get some more titles."
Fury is eligible to box for the vacant Irish crown thanks to his Romany family heritage and he is eyeing a meeting with veteran Belfast brawler Martin Rogan, 40.
"I want to go to Kings Hall, Belfast for 'Big Marty'," added Fury. "I can't wait to get over there."
Saturday's fight was on terrestrial television, and Fury's promoter Mick Hennessey believes his fighter's exposure will add to his appeal.
"We have a situation where we have options, but his next fight is going to be on Five," said Hennessy.
"I've noticed non-boxing people talking about this fight, talking about Tyson Fury. He's been getting recognised in the street by non-boxing people.
"If we have about five or six outings on terrestrial TV he's going to be a household name for sure."