Britain's Amir Khan targets bout with Floyd Mayweather
Last updated on .From the section Boxing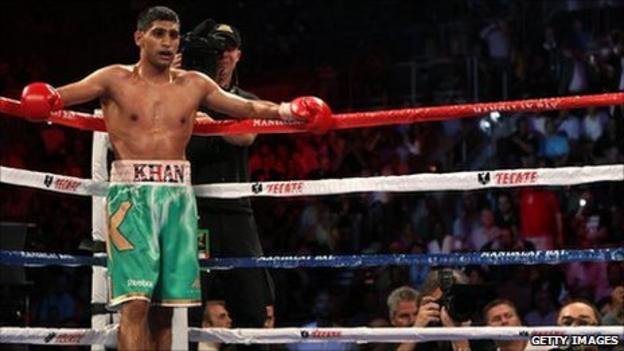 Britain's Amir Khan believes he will be ready to fight undefeated Floyd Mayweather "within the next 12 months".
The 24-year-old defeated Zab Judah in their light-welterweight unification fight in Las Vegas on Saturday.
And Khan said: "My aim is to move up the pound-for-pound rankings and to one day be pound-for-pound champion.
"The Mayweather fight is something I'm looking at for the future and it would be huge for me. It would drive me on."
The Bolton fighter added: "I've got the speed and the skills and with [trainer] Freddie Roach polishing me up a little more, it's a fight we can win."
A fierce shot to Judah's body was enough to earn Khan the IBF crown to go alongside the WBA title he has defended since 2009.
After the bout, Roach lavished praise on his fighter, describing Judah as by far the toughest opponent of Khan's short career.
"That was one of Amir's best performances. I'm thrilled because it shows he's paying attention to what I'm teaching him," said Roach.
"Amir's best quality is that he listens. He's the best listener I've ever had. I give him some instructions, he follows them to a T.
"He has a lot of trust in me and I have a lot of trust in him. It's a very solid relationship and it feels good that he trusts me that much.
"In my mind he can be the next Manny Pacquiao, there's no doubt about that.
"I do believe Amir's speed can trouble Mayweather but Mayweather is a very good boxer and is very slick.
"We'd love to take on the winner of his fight with Ortiz."
The Olympic silver medallist will now choose from a variety of potential next opponents before opting for Mayweather.
"I'll take a look at the short list," said Khan.
"I'm still a fight or two away from there yet. At 25 I'll fight at 147 pounds and see where we go from there.
"We just keep on collecting titles, that's what we want to do. I'm only 24 and there's a lot of improvement to come."
Earlier in the week, Mayweather signalled a desire to defend his titles in the UK, but of Khan said "there's nothing there we haven't seen before in boxing".
"I'd love to go over and put on a great show and a great fight for my number one fans," the former number one pound-for-pound fighter said.
"When I went over there 5,000 fans watched me train. It was truly marvellous. I'd like to fight at Wembley, so I'll keep my fingers crossed and hope for the best."
Before moving up to the 147lbs division, Khan could possibly fight Mexican Erik Morales or WBC and WBO title-holder Tim Bradley.
Khan's management team has made its feelings clear that a fight with Bradley would be the preferable option but the 27-year-old is apparently reluctant to accept the bout.
"No one can say to Amir, 'You didn't fight Bradley'," said Golden Boy chief executive Richard Schaefer.
"Bradley had his chance, he was given a 50-50 split of the UK TV money.
"Amir must be the undisputed 140lbs champion because if Bradley didn't want to fight before, he won't want to fight him after seeing him beat Judah."