George Groves and James DeGale set for rematch - Frank Warren
Last updated on .From the section Boxing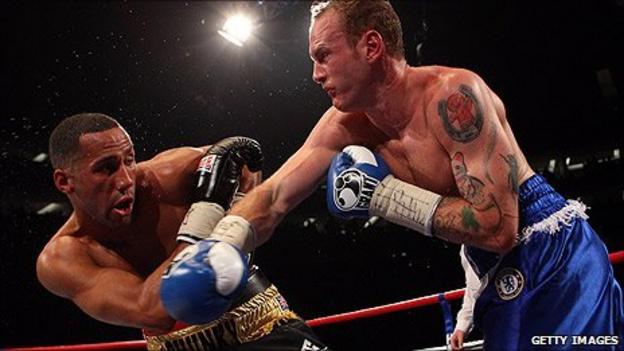 Frank Warren has promised a rematch between James DeGale and George Groves after revealing he will promote British and Commonwealth champion Groves.
"It is an obvious fight that will definitely happen again," said Warren.
"The last fight was very close and a few observers felt that it could have gone either way."
Unbeaten Groves inflicted the first defeat of fellow Londoner DeGales's career to win the British super-middleweight crown, in an encounter Warren claimed at the time DeGale had won.
"One thing's for sure, the public will want to see it again. It's a big domestic rivalry that will become ever bigger," added Warren.
"I'm very happy that George has chosen to come under my promotional banner and we will now be involved in some big fights.
"He's a good fighter and the last fight against James DeGale was the first time I had worked with him."
Despite leaving Hayemaker boxing, Groves will continue to be trained and managed by Adam Booth.
He has signed a three-year deal with Warren, joining a stable that includes world champions Nathan Cleverly (WBO light-heavyweight) and Ricky Burns (WBO super-featherweight).
"Frank is the most experienced promoter in Britain by far and we feel he has the experience and ability to take me to the very top," said Groves.
Groves is unbeaten in 13 fights and is ranked inside the top 15 with the WBC and IBF organisations.
"Having sat down with Adam Booth and discussed at length what was the best move for my career and fighting to progress towards a world title, we agreed that everything that Frank put to us made perfect sense," said Groves.
Booth added: "On the surface, this may seem a strange decision from me and Hayemaker boxing to have made.
"But this is all about what is best for the career of George and we believe that working with Frank is the best decision we could have made.
"George has the full support of both myself and David Haye as we know that if anybody can take George to the top, Frank is the man."