World champions fear Rendall Munroe - Ricky Hatton
Last updated on .From the section Boxing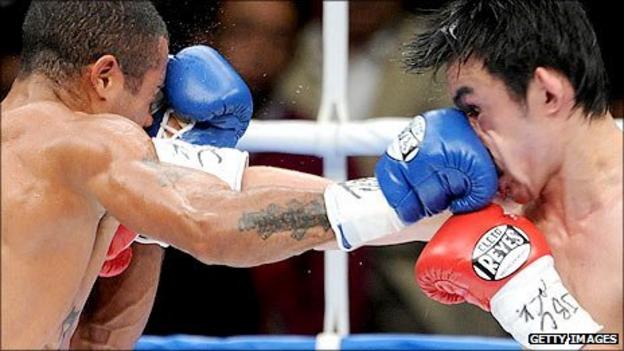 Rendall Munroe is struggling to line up a second world title shot because he is such a feared opponent, according to promoter Ricky Hatton.
Hatton told BBC Radio Leicester: "When you're as good as Rendall, champions will not fight you unless they must."
Leicester's Munroe fights Ryuta Miyagi in a non-title fight at Sheffield's Ponds Forge Arena on 24 September.
And Hatton said although he is convinced his man is more than ready to take on the world's best, his bout against Nishioka's fellow Japanese fighter Miyagi is just part of the process of earning that second chance.
"If the world champions don't want to fight him, then it's a matter of getting him the right opponents who will nudge him to the mandatory position," said Hatton, who took over from Munroe's previous promoter Frank Maloney in March.
"Rendall is a joy to work with and put on a wonderful performance in Japan against the best guy in the division.
"Maybe from a promoter's point of view that has worked against him in the sense that unfortunately he is not quite the mandatory challenger.
"We have been speaking to every single world champion in the division and nobody wants to fight him, and the only reason we can put it down to is the fact he put up such a great performance in Japan.
"We worked hammer and tong as a team to get him a world-title shot because I think nothing less than a world title shot will suffice for Rendall, but unfortunately his reputation has gone before him.
"I have secured world title fights for my brother Matthew and Ryan Rhodes and I will definitely get it for Rendall. It's just his reputation is coming before him a little bit at the minute."
Miyagi, 36, has won 20, lost five and drawn four of his fights and is seen as a really tough opponent but someone boxing binman Munroe should beat without too much trouble.
Former light-welterweight and welterweight world champion Hatton added: "At the minute it's about getting Rendall the right fight at the right time, people that are ranked that will nudge him towards that number one spot.
"It's important we keep him busy and keep him in the right fight and the minute his chance comes along, he will take it."