Police called to separate Nathan Cleverly and Tony Bellew camps
Last updated on .From the section Boxing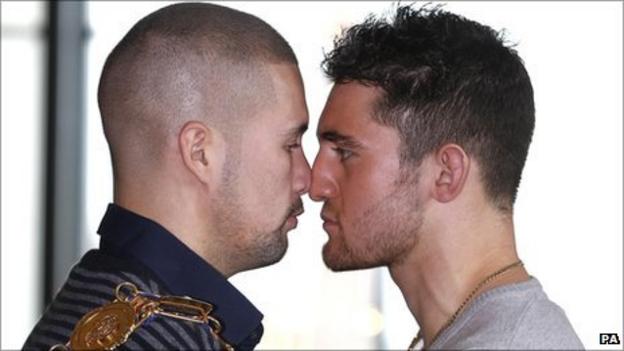 Police officers were called when the latest meeting between Nathan Cleverly and Tony Bellew to promote their WBO world-title bout ended in chaos.
Cleverly's father and trainer, Vince, was involved in a row with Bellew's camp as they left the room following a media conference in a Cardiff hotel.
Order resumed when police officers spoke to both parties.
"I was a bit taken aback by what was happening and tried to keep focused on my interview," said champion Cleverly.
"I didn't see what happened to make my dad go off like that, but he's a passionate person and he probably got a bit over excited."
Bellew, the Commonwealth and British title holder, added: "My team were behaving themselves, it seems to me that Cleverly's dad was trying to rattle us ahead of the fight."
WBO light-heavyweight champion Cleverly and Bellew came close to blows in May after trading insults in front of the media before their aborted fight.
The pair were involved in another fiery meeting in Liverpool last week as the bad feeling grows ahead of the 15 October bout in Liverpool's Echo Arena.
Monday's meeting in Cardiff was the last between the two unbeaten light-heavyweight fighters before the week of the fight.
"It's inevitable there are going to be fireworks in a press conference with Tony Bellew and myself," said 24-year-old Cleverly before the altercation involving his father.
"We're both fired-up characters, both unbeaten and both want to win."
Bellew missed an opportunity to face Cleverly in May when he failed to make the weight after being called in as a late replacement for former champion Juergen Braehmer.
The 28-year-old from Liverpool said he respected Cleverly's punching ability but questioned his defence.
"His footwork is poor," he said. "He thinks I'm limited, he thinks I'm chinny.
"We'll see. But I think we both know for an absolutely fact that I'm the best fighter he's fought."
Cleverly, though, has questioned the calibre of Bellew's 16-fight record and claimed he does not "deserve" a shot at the world title.
"I had to go through a world-title eliminator and European title and I had to fight for the interim world title," said Cleverly, who as won all his 22 bouts as a professional.
"It's been a long route for me - the hard route. But the fight is happening, I've given him a shot and I'm going to give him his first defeat.
"He's talked himself into trouble and that's what I'm going to show."