Ricky Hatton set for career as a trainer
Last updated on .From the section Boxing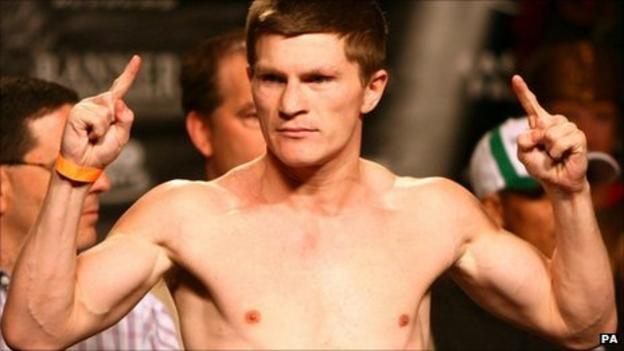 Ricky Hatton is ready to embark on a career as a trainer after being granted his licence by the British Boxing Board of Control.
The former two-weight world champion announced his retirement from the ring this summer.
Now Hatton, who already runs a promotional company, is ready to don the trainer's pads.
"The board have shown great faith in me by giving me a trainer's licence for the first time," said the 32-year-old.
"It means they are putting their trust in me to go in a corner with a boxer and look after his welfare."
Hatton also regained his second's permit, which allows him to work in fighters' corners. He lost that last year after allegations of cocaine use while battling depression.
"I left school when I was 16 years old and apart from fitting a few carpets badly for my dad, the only job I have had is boxing," he said.
"I am dedicated to being a trainer as much as I was being a fighter because boxing is a hard game and you only get one chance.
"I have got that little spring in my step and I hope it won't be long before future champions start knocking on my door asking me to train them.
"I am fully on board running my businesses, but my office has always been the boxing gym and that is where I give my best advice."
The former fighter known as the "Hitman" also took over from his father, Ray, as head of the Hatton Group this week, but will wait before applying to regain his manager's licence.
"I will eventually manage fighters, but there won't be an abundance of them because I have so many irons in the fire at the minute," Hatton added.