I'll knock out Victor Ortiz - Floyd Mayweather
Last updated on .From the section Boxing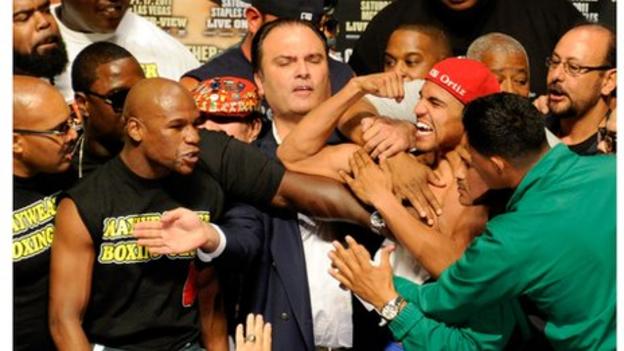 Floyd Mayweather has said he is ready to prove himself 'all over again' and knockout Victor Ortiz.
Mayweather, 34, is unbeaten in 41 fights but climbs into the ring for the first time in 16 months in the early hours of Sunday.
But he is again facing claims he is avoiding Manny Pacquiao to protect his unblemished record.
"The only thing I can do is go out there and keep winning, keep proving myself over again," Mayweather said.
"I'm not ducking or dodging anybody. I'm in a no-win situation."
Some critics have suggested the bout will be a 'tune-up' for Mayweather - who has only fought twice since stopping Ricky Hatton in 2007 - before an agreement is finally reached for a Pacquiao fight next year.
But WBC Welterweight champion Ortiz poses a threat - the powerful Mexican-American has knocked down every one of his 33 opponents during a professional career boasting 29 wins, two draws and two defeats.
"He [Ortiz] says the fight won't go the distance. I say the fight won't go the distance and so hopefully it won't," Mayweather said.
"I'm a good finisher, too. So, when I hurt you, don't grab me, don't hold on at all. I'm going to finish you off."
Ortiz, 24, believes the pressure is all on his opponent.
"I have nothing to lose," Ortiz said. "He has everything I want.
"I hope the actual Floyd Mayweather shows up. I don't want a Mayweather that's lost his speed or power. He's got that beautiful mouth that just never stops, but I'm going to knock him out."
The card also features Mexican legend Erik Morales in a 140-pound title fight against unbeaten Pablo Cesar Cano.