James DeGale wants George Groves rematch early in 2012
Last updated on .From the section Boxing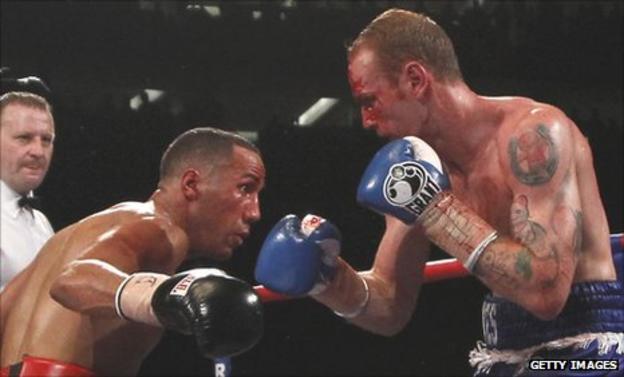 James DeGale wants a rematch with rival George Groves early next year.
DeGale's next fight - against Piotr Wilczewski for the EBU title at Liverpool's Echo Arena on 15 October - is on the same card as the WBO light-heavyweight clash between Tony Bellew and Nathan Cleverly.
DeGale said: "If everything goes right, [we can fight] early next year."
Groves left his Hayemaker promoters last month .
Warren is also DeGale's representative and the Londoner added: "I'm glad [about Groves signing] because the rematch will happen sooner rather than later.
"I'll be more chilled and relaxed but I'll go in there ready to knock him out.
"Hopefully he carries on winning and I'll win the European title. [After Wilczewski] I'll box again in December.
"I think [the rematch] has got to happen. I'll win the European title and he'll keep the British title, then there's no-one else left for him to fight."
On Wilczewski, DeGale, 25, added: "I've not seen too much of him but his record speaks for himself.
"He's only had one loss in 30 fights.
"My preparation has been fantastic. I've been in the gym for the past 10 to 11 weeks.
"I've been sparring with Darren Barker and can't wait to get in there and be European Champion."
Speaking about his defeat to Groves, the Londoner said: "It hurt me. It hurt my ego. I lost my '0' [unbeaten record]. It's boxing and it happens.
"A lot of great fighters have lost their '0'. Sugar Ray Leonard, Muhammad Ali and some of my favourite fighters.
"I've watched the fight back around a hundred times. I still had myself up three rounds. I don't know how they scored it [like that].
"[The build-up] was a bit too raw and ruthless. We've got history and I don't like him.
"If it ever happens again, I'll keep my mouth shut and let my fists do the talking.
"But there were 12,000-15,000 people there because of the hype and because of me.
"However much George goes on that he taught me a lesson and all that, what nonsense.
"It was very, very close and a lot of people thought I won."