Martin Rogan's WBU heavweight title fight called off
Last updated on .From the section Boxing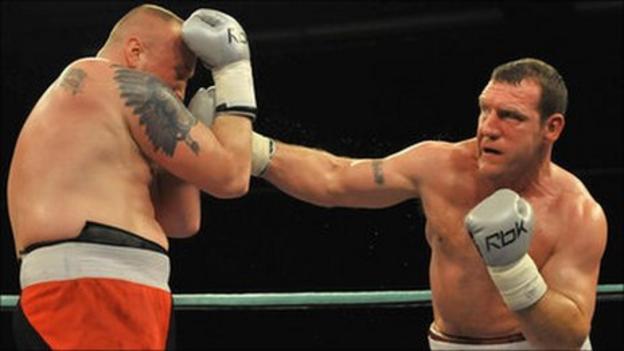 Martin Rogan's WBU heavyweight title clash against Panama's Lewis Andreas Pineda scheduled for 27 October is off.
The British Boxing Board of Control is understood to have refused to sanction the Belfast bout amid doubts over the ownership of the WBU belt.
Separate organisations in the US and Germany are both claiming jurisdiction over the lightly-regarded belt.
In response, US-based WBU official Don Lewis said Rogan would fight for the title in the US later this year.
The 40-year-old's announcement of the fight at Belfast's Odyssey Arena had come as a major surprise.
Rogan was attempting to sell the fight on the basis that a victory would make him Northern Ireland's first ever heavyweight champion of the world.
However, the WBU belt is well down the pecking order of the various boxing world governing bodies.
Rogan said he was puzzled by the British Boxing Board's stance.
"This has come as a bolt from the blue for me," said Rogan.
"I got word that the board was meeting to discuss the fight and the WBU on Wednesday night.
"This is the same body that recognised the WBU when Ricky Hatton was a champion, Eamonn Magee and Micky Ward.
"So I am at odds to understand why it's good enough for some but not for me. I have done everything by the book.
"I have paid all the fees asked of me and I have paid for a promotional licence too. I am asking why but I have not been given any answers.
"I tried calling the board many times without success but I am sure I will find out in the next few days.
"How come it is okay for the likes of Ricky Hatton to fight for and defend a WBU title in the UK but not okay for a guy from Belfast to fight for one in his home town?"
Rogan had hoped that the bill might be rescued but the Odyssey Arena has confirmed to BBC Sport that the show will not take place.
Atlanta-based WBU official Lewis spoke of his "disappointment" at the British board's decision.
"How they could deny Martin Rogan the chance of a lifetime to become the first true Irish World Heavyweight champion in history mystifies me," added Mr Lewis.
"The fans in Ireland want to see this and Mr Rogan has jumped through all the rings to get to this point.
"Not only is he getting the short end but so are boxing fans. Martin Rogan has all the qualities of a world champion - he just needs the belt to verify it."
A spokesman for the British Boxing Board of Control said:"As things stand, we don't recognise the WBU belt and the for the moment we're not prepared to elaborate on that."