Floyd Mayweather knocks out Victor Ortiz in controversial win
Last updated on .From the section Boxing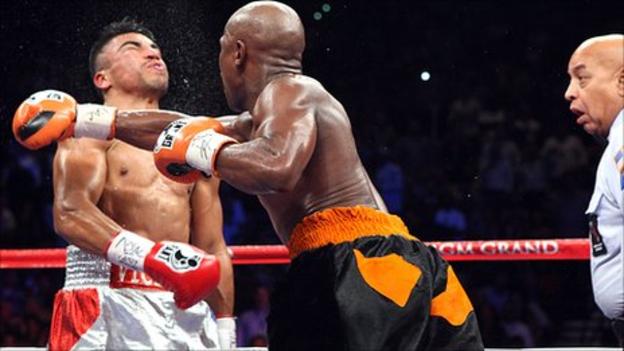 Floyd Mayweather claimed the WBC welterweight title with a controversial victory over Victor Ortiz in Las Vegas.
Mayweather knocked out Ortiz at the end of the fourth round to extend his unbeaten record to 42 fights.
But the 34-year-old appeared to land the knockout blows while Ortiz was apologising after delivering a headbutt seconds earlier.
After the fight, Amir Khan told BBC 5 live's Sportsweek that he was hopeful he would take on Mayweather in 2012.
Sunday's bout started quietly, before bursting into life in the fourth round with Ortiz getting Mayweather on the ropes without quite being able to find a decisive blow.
Just before the bell Ortiz had Mayweather on the ropes for a third time, only to be penalised for a headbutt.
The 24-year-old then seemed to be apologising and was not protecting himself as Mayweather landed two punches - the second a big right hand - to end the fight.
Ortiz claimed he was hit by a punch before the referee had asked the fighters to continue.
"I got hit by a dirty shot. The rule is protect yourself at all time," Mayweather insisted afterwards.
"We are not here to cry and complain about what he did or I did dirty."
Ortiz said he was "blindsided".
"I took the break by the referee and I obeyed exactly as I was told," he said.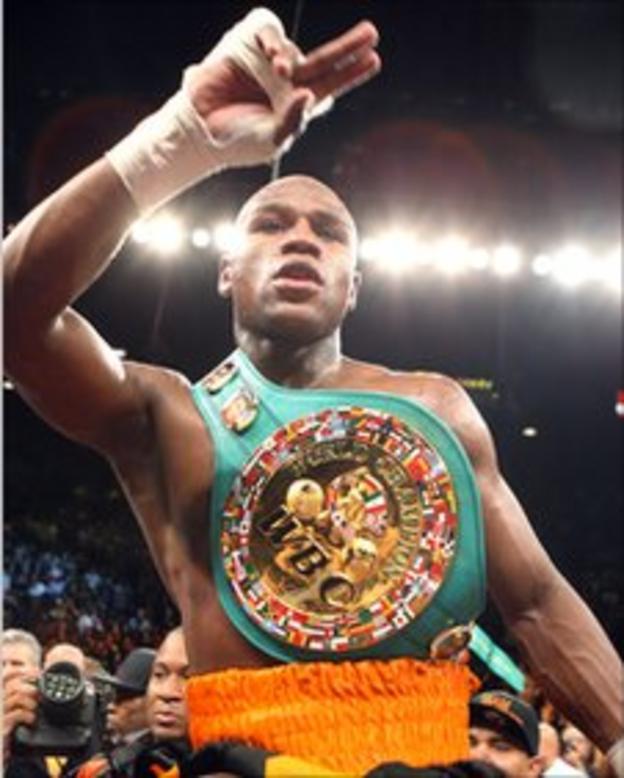 "There's two ways to look at it but as far as I was concerned I came here to entertain the fans and they were entertained.
"There was a miscommunication with the referee but nobody is perfect and this was a learning experience."
Mayweather had returned to the ring for the first time in 16 months.
Some critics had suggested the bout would be a 'tune-up' for Mayweather before an agreement is finally reached for a Manny Pacquiao fight next year.
But Khan said he would fight at 140lbs for the final time on 10 December before stepping up to welterweight with an eye on Mayweather.
"The fight between me and Floyd Mayweather has to happen next year," Khan said.
"In my eyes he is the one I want. If I want to be the best pound-for-pound fighter, I have to beat him.
"I know I have got his number because I have got the technique and skills to beat him."
Khan said Mayweather's camp wanted him to take on one of the American's gym fighters Jessie Vargas before getting to take on Mayweather himself.
"I am happy if Floyd says I have to beat him," Khan said. "I am happy to move up to 147, fight him and take on Floyd around November time."