Floyd Mayweather defends outburst at veteran broadcaster
Last updated on .From the section Boxing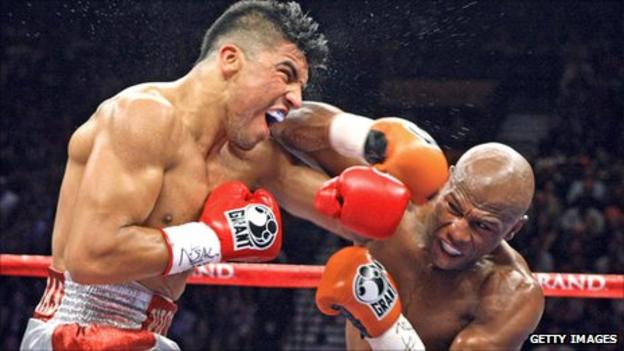 Floyd Mayweather has defended his obscene rant at Larry Merchant, during which the boxer told the 80-year-old broadcaster he should be sacked.
The American fighter's outburst, on live television, led to Merchant responding: "I wish I was 50 years younger and I'd kick your ass."
The exchange took place after Mayweather had knocked out Victor Ortiz to claim the WBC welterweight title.
Mayweather later told boxingscene.com: "I don't regret what I said."
The 34-year-old won the fight by catching Ortiz with two decisive blows when the champion thought referee Joe Cortez had called "break".
Afterwards, Mayweather grew irritable at HBO commentator Merchant's repeated questions about the controversial nature of his win.
He interrupted Merchant during the in-ring, post-fight interview on live television, saying: "You never give me a fair shake. So I'm gonna let you talk to Victor Ortiz, alright? I'm through.
"They can put somebody else up here to give me an interview. HBO need to fire you. You don't know s*** about boxing. You ain't s***."
The commentator, who has been covering boxing with HBO for more than 30 years, then also lost his cool.
Defending his comments, Mayweather later said: "Everybody is tired of Larry Merchant. He said if he was 50 years younger, that he would kick my ass.
"All of these boxing experts - how can you be a boxing expert if you never had a fight before?"
Merchant joined HBO as an expert analyst and was inducted into the International Boxing Hall of Fame in New York in 2009.
Meanwhile, the prospect of a fight between Mayweather and Filipino Manny Pacquiao seems as distant as ever. Mayweather said: "I don't need Pacquiao. Where was Pacquiao in 1996, 1997, 1998, 1999, 2000, 2001 when I was dominating the game?
"He never asked me (for a fight) when I was in my twenties or when I was in my teens."