Amir Khan surprised by Floyd Mayweather let-off
Last updated on .From the section Boxing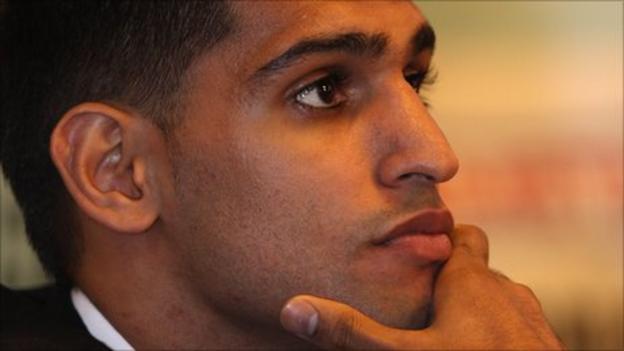 Amir Khan admits Floyd Mayweather was lucky not to be disqualified in his fight against Victor Ortiz.
But the 34-year-old appeared to floor his opponent while Ortiz was apologising after delivering a headbutt earlier in the round.
"They let him off because he is Floyd Mayweather," Khan told BBC Sport.
"If that was anyone else you would have been disqualified but because it was Mayweather they can't disqualify him."
"A couple of seconds before he [Ortiz] blatantly headbutted Mayweather," the Bolton-born fighter added.
"Mayweather is a fighter off the streets and he thought 'forget this I'm going to get this kid back' and as soon as the ref wasn't looking, bang, he hit him with a left hook.
"If that happened without Victor hitting him in the head I think Floyd would have got disqualified."
Khan won the IBF light-welterweight crown when he defeated Zab Judah in July adding to the WBA title he has defended since 2009.
After the fight Khan revealed that he wanted to fight Mayweather within 12 months.
And the Bolton-born fighter has once again confirmed his intent to pursue a fight date as he gets ready to move up a weight to take on Mayweather.
He added: "My next fight will be 10 December against Lamont Peterson, an American fighter, and then I'll move to 147 [lbs] after that fight.
"I know I'm two or three fights away from fighting Mayweather - and that within the next nine months I will fight Floyd Mayweather."