Bernard Hopkins bout would be 'dream' says Nathan Cleverly
Last updated on .From the section Boxing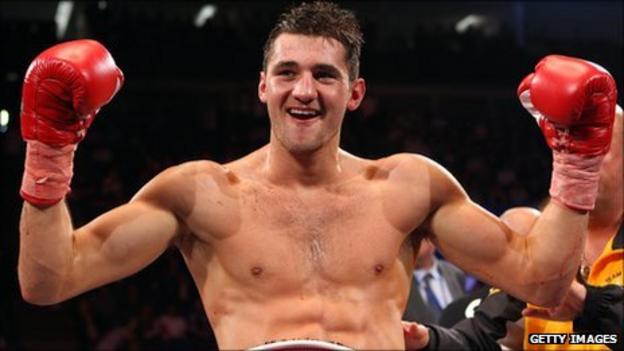 Nathan Cleverly says the prospect of facing Bernard Hopkins at the Millennium Stadium will be the perfect incentive for him to beat Tony Bellew.
Promoter Frank Warren has said the winner of the WBO world-title bout could face Hopkins or Chad Dawson.
And Welshman Cleverly says facing Hopkins would be a dream if he beats Bellew in Liverpool on 15 October.
"Provided this goes well and I win in style then there's no reason why not," he said.
"That would be a dream fight for me. Those are the fights you dream of."
Warren, a shareholder in new TV channel BoxNation which will screen the Bellew-Cleverly fight, says he hopes to arrange a fight for the winner to face Chad Dawson or Bernard Hopkins.
Hopkins defends his WBC and IBO light-heavyweight titles against Dawson in Los Angeles on 15 October.
On the same date Cleverly will defend his WBO light-heavyweight title for a second time against Liverpudlian Bellew at the city's Echo Arena.
"What we're looking for is the winner of Nathan and Tony to fight the winner of Hopkins and Dawson for a big fight," said Warren.
"It could be that Nathan wins [and] Hopkins wins [then] we may be in a position where we're at the Millennium Stadium early in there new year."
Bellew was in line to face Cleverly in May as a late replacement after previous champion Juergen Braehmer withdrew.
But the 28-year-old failed to make the weight after Bellew clashed with Cleverly in a pre-fight press conference.
The animosity continued in Cardiff last month when a press conference ended in chaos after police were called when the two camps became embroiled in a row.
Although Cleverly concedes there is plenty of hype surrounding their rivalry, he added there was no love lost between him and Commonwealth light-heavyweight champion.
"A lot of it was exaggerated to sell the fight but there is genuine needle there," added Cleverly.
"We're the same weight division, we're rivals and it's inevitable really.
"But sometimes it's nice to have that because with a foreign opponent you don't get that needle and it's sometimes hard to get yourself up for those fights."
Despite the obvious animosity between the two fighters, Cleverly maintains he will remain focused.
"It's easy to get emotionally involved but you've got to draw on your experience and not let that have any effect on the fight," Cleverly added.
"I've had a lot of title fights in the last couple of years and bit by bit, fight by fight, you learn to deal with it better and better.
"There's no point getting worked up too early, too soon otherwise it can affect your training. It's just a matter of staying calm, staying focused and enjoying it.
"As long as I'm training and I'm fit then the fight should go as planned."