Paddy Barnes facing Zou Shiming rematch at World Championships
Last updated on .From the section Boxing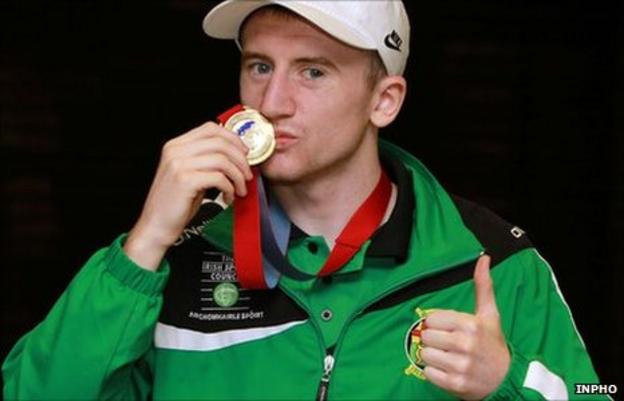 Paddy Barnes looks to have been handed a tough draw at the World Championships in Azerbaijan where he will be attempting to qualify for next year's Olympics in London.
If Barnes wins his last-32 contest, he is likely to have to face China's Zou Shiming in the last 16 with only the winner securing a London berth.
Shiming defeated Barnes 15-0 in their semi-final in Beijing although the Belfastman disputed the wide margin.
Barnes received a first-round bye.
Last year's Commonwealth Games light-flyweight gold medallist and European Champion will face either the Philippines' Mark Barriga or Romania's Stefan Caslarov in the last 32.
All quarter-finalists in Baku will be guaranteed Olympic spots although there will be further qualifying tournaments for London 2012 in the run-up to the Games.
Another Belfast boxer Michael Conlon will be the first Irish hopeful in action on Tuesday.
Flyweight Conlon takes on Moldovan Alexandr Riscan in the last 64.
Conlon sparred with the Molodovan at a recent pre-championship training camp.
European light-welterweight champion Ray Moylette will face Latvia's Arturs Ahmetous in his opening bout while middleweight Darren O'Neill will take on Norway's Glodi Eneste, a man he defeated in the 2009 European Union Championship final.
Olympic light-heavyweight silver medallist Kenny Egan is likely to face Cuban Jose Larduet in his opening heavyweight bout next Monday.
Larduet will face Lubas Velecky of the Czech Republic in the last 64.
European light-heavyweight champion Joe Ward will take on either Bulgaria's Dmitrov Stoimen or Tajikistan's Abdurakhmonov Dilovasnoi in the last 32.
David Oliver Joyce and Roy Sheehan will face Mohammad Momevad of Iran and Carl Hield of the Bahamas.
Super-heavyweight Con Sheehan opens up against Tajikstan's Faruth Kalonov while John Joe Nevin, a bronze medal winner at the 2009 World Championships, will take on Slovakia's Filip Barak or India's Akhil Kumar.