Liverpool's Derry Mathews out to defeat Gavin Rees
Last updated on .From the section Boxing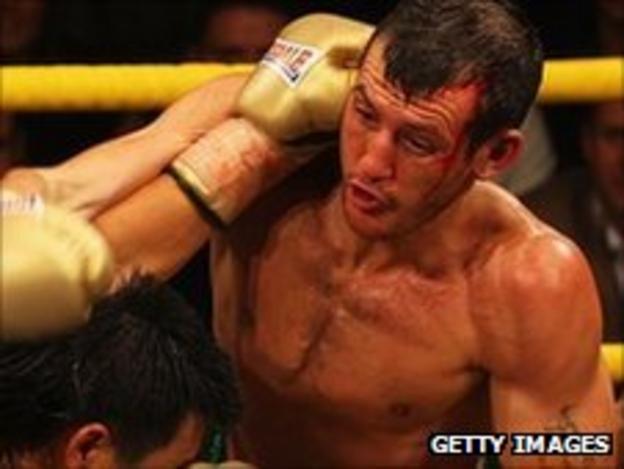 Liverpool's Derry Mathews plans to shock boxing by beating European lightweight champion Gavin Rees in Newport on 1 October.
Mathews, 28, who came out of retirement in 2010, knows he is the underdog against former WBA World Champion Rees.
"Out of 100 people maybe 10 might say I'll win the fight," Mathews told BBC Radio Merseyside.
"When people are putting me down that's what brings me on. I'm a fighter and that's when I'm at my best."
He added: "I've got people around me believing I'm going to win the fight. My family believe I can win the fight and most of all the fans and my good friends do too.
"I've been locked away in a training camp for six weeks and I haven't socialised with anyone. After 1 October I'll be be knocking on everyone's door with a blue shiny belt."
Winning the EBU belt would cap a remarkable 14 months for Mathews, who since coming out of retirement, has avenged earlier defeats by Choi Tseveenpurev and Scott Lawton.
"I've ended up in Oliver Harrison's gym and I've bought my own house," Mathews continued. "In the last 12 months I've won three titles and the world is my oyster.
"I've just got to win the European title and I'll sit down with Steven Vaughan and Harrison and we can plan what's ahead of me."
You can hear more about Mathews comeback in: 'Derry Mathews - Still Here' on BBC Radio Merseyside 95.8 FM, 1485 MW and DAB from 2000 BST on Wednesday, 27 September.