Joe Calzaghe excited by Nathan Cleverly and Enzo Maccarinelli rivalry
Last updated on .From the section Boxing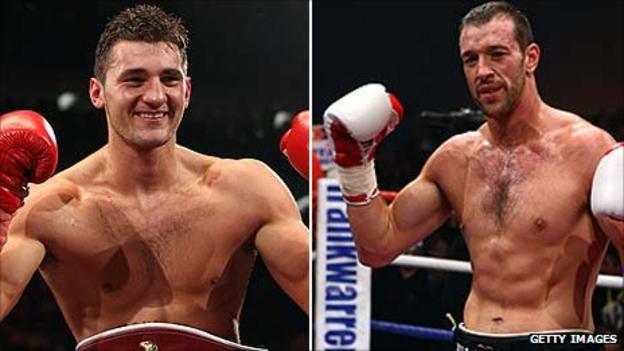 Joe Calzaghe says a fight between Nathan Cleverly and Enzo Maccarinelli has the ingredients to be a classic.
Former world champion Maccarinelli is trying to resurrect his career by dropping a weight and has targeted Cleverly's WBO light-heavyweight belt.
"There are a lot of reasons why that fight would be a sell - they are former stablemates," said Calzaghe.
"There is a little bit of needle between the both of them so you have the ingredients for a huge fight."
Maccarinelli contemplated retirement in the wake of four defeats in three years at cruiserweight - the last of which was a sickening seventh-round knockout by Germany's Alexander Frenkel in September 2010 that broke his jaw.
But the 31-year-old from Swansea has decided to fight on and has returned to former mentor Enzo Calzaghe, who guided him to the WBO cruiserweight title in 2006.
He challenged Cleverly moments after the Cefn Fforest fighter beat Aleksy Kuziemski to defend his WBO light-heavyweight title in May, blaming Cleverly's father for creating animosity between the former friends and stablemates.
The simmering rivalry took an extra twist when it emerged that Maccarinelli will be helping Tony Bellew to prepare for his bout with Cleverly on 15 October.
Maccarinelli's planned comeback fight in September failed to materialise, and Calzaghe feels his former sparring partner needs a quick return to the ring to get his career back on track.
"He needs to prove himself after a bad defeat. He needs a comeback fight and to look impressive," the former undisputed world super-middleweight champion told BBC Radio Wales' Back Page programme.
"I've seen him train and he looks impressive. My dad's got him in great shape. I've seen him on the pads.
"But the public want to see what he's got in the ring. He should fight for a British title, destroy somebody and look good at the weight and then maybe take on Cleverly."
Next on the horizon for Cleverly is a second defence of his world title against British and Commonwealth champion Bellew.
The challenger will enjoy home advantage in Liverpool but Calzaghe, who says he sees many of his own characteristics in Cleverly, feels the champion will enjoy a comfortable win.
"It's an interesting domestic fight," he said. "As far as I'm concerned, Nathan is head and shoulders above Bellew skill-wise.
"Don't get me wrong Tony Bellew can punch. He's a big puncher, he's fighting in Liverpool, but I believe Nathan is the class act and Nathan will win this fight. He should win it in style."