Ricky Burns ready for 'toughest fight' with Michael Katsidis
Last updated on .From the section Boxing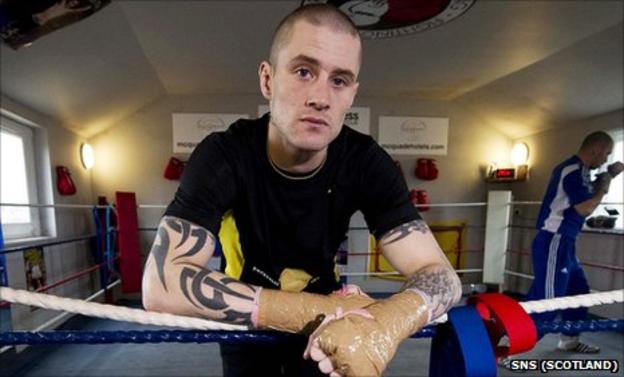 Scotland's Ricky Burns is braced for his sternest test yet when he faces Michael Katsidis for the vacant WBO lightweight title on 5 November.
The 28-year-old is moving up a weight division and is full of admiration for his Australian opponent.
"Nobody knows more than me that this is going to be the toughest fight of my career," Burns told BBC Scotland.
"Michael is never in a dull fight, he's always in your face, so I know I'm going to have to be at my best."
Having recently relinquished his WBO super-featherweight title to take on the bout at Wembley Arena, Burns is raring to go.
"Michael Katsidis is a great fighter, one of the best of the weight," he explained.
"I don't think they could have got me a harder fight if they tried, he's been in with the best of the weight, he's proved himself, obviously he's one of the best in the division and it's a great chance to get out there and show what I can do."
The change of division has eased the pressure on controlling his weight, according to Burns, allowing more focus on fighting.
"Moving up to lightweight now was the best time to do it, the last couple of fights it was getting harder and harder for me to do it," the Coatbridge fighter added.
"I can now concentrate on the boxing side of things, and start enjoying it a lot more, so I just wan't to win this fight."
Katsidis has had an impressive record in previous fights in London, including wins over Kevin Mitchell and Graham Earl, but Burns is positive about heading straight into the contest.
He said: "I have moved up going straight into a title fight, what more could you ask for?"
"It's going to be a hard fight, we are preparing for a hard 12 rounds.
"When I was fighting at super-featherweight, the diet was so strict, when I knew the fight was getting closer, I was really struggling to lose those last few pounds. I'm going to be so much happier fighting lightweight and so much stronger as well."
Commenting on speculation that he moved up to avoid a fight with Adrian Broner, he said: "How can they say that, when I've moved up and in my eyes took a harder fight in fighting Michael?"