Four British boxers guaranteed World Championship medals
Last updated on .From the section Boxing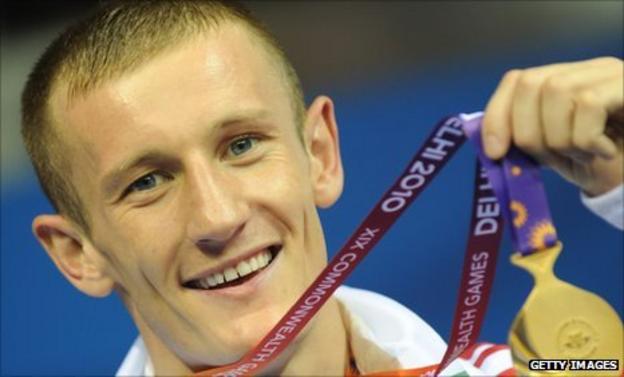 Britain are guaranteed four medals at the World Amateur Boxing Championships in Azerbaijan.
Thomas Stalker, Luke Campbell, Andrew Selby and Anthony Joshua have all booked a semi-final spot in Baku.
Stalker, Campbell and Welshman Fred Evans secured their London 2012 places by reaching the last eight on Tuesday.
Joshua, who eliminated Italian world and Olympic champion Roberto Cammarelle in Wednesday's quarter-final, has now also qualified.
Team GB also has a spot secured in the flyweight division after Welshman Selby and England's Khalid Yafai both reached the quarter-finals.
As Team GB can only have one representative in each weight, Selby and Yafai will have to box-off unless the Welshman goes on to claim gold which will ensure him of the Olympic berth.
And Selby edged closer to claiming gold on Wednesday as he earned a semi-final place with a hard-fought 25-24 victory over Belfast flyweight Michael Conlan, who has by reaching the last eight.
Yafai's chances of stopping Selby ended when he lost out to the United States' Rau Shee Warren 14-9 in the last eight.
However, it was Joshua's performance that caused the biggest stir on an historic day for GB boxing.
While his team-mates only had to reach the last eight to ensure Olympic qualification, the super-heavyweight division only offered spots to semi-finalists.
And Joshua pulled off a massive coup to come from behind to beat veteren Italian Cammarelle 15-13 in his first-ever World Championships.
"I believed I could beat Cammarelle, so I'm not shocked," the Finchley boxer said. "It's not always about the name, but who the best boxer is on the day."
"I've made the Games and I believed I would, but it's not just about me, it's the first time we've had four medals at the Worlds.
"It's just great for boxing back home, we're helping put the sport on the map."
Stalker had beaten Alexander Solyanikov 17-9 to earn his Olympic spot and overcame India's Manoj Kumar 24-18 on Wednesday to book a semi-final place.
Campbell, who defeated Mohamed Ouadahi 11-9 to reach the last eight, booked his last-four spot with a 12-8 win over Bulgarian Detelin Dalakliev.
The already-qualified Evans had beaten German Patrick Wojcicki 12-6 in the last 16 to reach London, but bowed out of the Worlds with a quarter-final loss to Lithuanian Egidijus Kavaliauskas.
Evans still becomes the first Welshman since Dave Griffiths in 1984 to win Olympic selection.
Middleweight Anthony Ogogo may not join them after going down 17-12 to Brazilian Esquiva Falcao on Tuesday, while Simon Vallily exited the last 16 after losing 16-10 to Chaoualb Bouloudinats of Algeria.
For Campbell and Stalker, the achievement was powered by the disappointment of missing out on the Olympics four years ago.
Campbell said: "Tom and I had a chat four years ago when we were devastated at missing out on Beijing. The two of us just sat there and vowed to put our heads down and train hard and make it to London.
"It's an incredible feeling that we've both made it."
"It was never straightforward and there were times I thought I might not make it. But I kept my discipline and trained hard."
Light-welterweight Stalker, from Liverpool, will now face Ukraine's Denys Berinchyk in Friday's semi-finals.
Hull bantamweight Luke Campbell will face Ireland's John Joe Nevin, a 2009 World Championship bronze medallist, in the last four.
Joshua will compete in the super-heavyweight semi-finals against Germany's Erik Pfeifer.
All is not lost for Ogogo. Under AIBA's qualification rules, if Falcao subsequently goes on to claim a place in the 75kg final, the Suffolk-born boxer will also qualify.
And the Brazilian moved a step closer to achieving a place in the decider with a 13-10 quarter-final win over Danabek Suzhanov.
The semi-finals begin at 1100 BST on Friday 7 October.