Stylish Kell Brook beats Jackiewicz to retain WBA title
Last updated on .From the section Boxing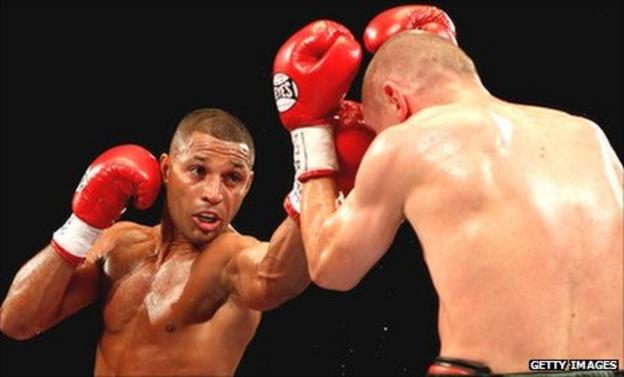 Kell Brook defended his WBA inter-continental welterweight title and set up a world title shot with a stylish victory over Rafal Jackiewicz.
Brook dominated in front of his home fans at Sheffield's Ponds Forge Arena, outclassing his wily opponent and ending the fight in the sixth round.
It was the first time the 34-year-old has been stopped in his 49-bout career.
Brook used his jab to devastating effect early on and effortlessly stepped up the pace to secure the win.
And the 25-year-old said he was "surprised" by Jackiewicz's performance, adding: "The guy has beaten someone who was world champion [former IBF champion Jan Zaveck] and then went 12 rounds and lost a majority decision against him.
"Basically, he didn't even hit me tonight and I wasn't out of second gear. I could have taken him out at any time and was just enjoying myself."
Jackiewicz had won 23 of his last 24 contests, but Brook's 100% win record was never in doubt in his 25th professional bout.
Brook was initially watchful and was content to use the jab and wear down his opponent in the first three rounds.
The Pole barely landed a punch of note in that time, and Brook - who had promised "an X-Factor display" in front of a sell-out crowd - simply stepped up the pace against his beleaguered and bloodied opponent to cruise to victory.
Brook rocked his man in the fifth and sensed an early end was there for the taking and he duly obliged in the next round.
The win is expected to lead to a fight against Ukrainian Viacheslav Senchenko in 2012, but Brook also voiced his desire to step into the ring with Amir Khan when the IBF and WBA Super world light-welterweight champion moves up a division.
"Yeah I want it, I want it," added Brook. "He doesn't want me. We know that we've got his number. It's a matter of time, I keep beating what Eddie [Hearn, his promoter] puts in front of me and it's got to happen, the public want it.
"They're going to demand it and I think it's going to happen next year."