British boxers enjoy record week with four medals in Baku
By Ronald McIntosh
BBC Sport in Baku
Last updated on .From the section Boxing
The 16th edition of the World Amateur Boxing Championships produced Great Britain's best ever medal haul with four podium places - three silver and one bronze. That is a statistic worthy of further analysis.
The championships began in 1974 when 274 boxers from 45 nations went to Havana, compared to the 570 from 120 countries who landed in Baku. And 37 years ago the Home Nations were not among that number; England, Scotland and Wales were conspicuous by their absence.
Even when they did enter, British boxers did not win a medal until the 10th edition in 1999, when Welshman Kevin Evans claimed a courageous, battling bronze in Houston after taking his lumps against the legendary Felix Savon in the heavyweight semi-final.
Fast-forward 12 years and the power base of amateur boxing has shifted. Cuban boxers are no longer the undisputed rulers of the ring, a fact often attributed to the number of amateur stars from that country who choose to defect and join the professional ranks elsewhere.
While this is undoubtedly a factor in Cuba's decline, other rivals have improved and emerged as serious contenders for medals on the world scene - chief among them Great Britain.
Former professional world-title challenger Robert McCracken was appointed as performance director for GB Boxing in November 2009. The programme he inherited had just returned without a single medal from the World Championships in Milan.
Since then, boxers under the auspices of the GB programme have won medals at every international tournament entered, including an unprecedented two European champions (Welsh duo Andrew Selby and Fred Evans) in Turkey in June 2011. The GB boxers have consistently proved that they are among the best in the world, and that notion was reinforced emphatically in Baku.
It's worth noting the immediate, overriding emotions of the three British silver medallists - Andrew Selby, Luke Campbell and Anthony Joshua - were frustration, disappointment, even anger as they left the ring.
Regardless of the stage, the quality of the opponent, not to mention the fact they had won silvers, they had each lost and their competitive pride had been jarred.
This winning mentality is evident throughout the programme. They understand that they may not always win, or even perform to the best of their ability, but they refuse to be intimidated by the reputation of any individual opponent or nation.
They genuinely believe they are among the best and that they belong. Such a positive mental attitude and deeply rooted confidence bodes well for the London 2012 Olympics.
And that is just as well because judging by the quality that has been on display throughout these championships, medals at the Games are going to be very hard to come by.
Statistically, Ukraine were the strongest nation with five finalists. Four of their fighters claimed titles and leading the gold rush once again was amateur superstar Vasyl Lomachenko in the 60kg division.
The reigning Olympic champion and Val Barker Trophy winner retained his status as a world champion, adding the lightweight title to the featherweight gold he won in 2009. His marauding, relentless, heavy-handed style is exciting to watch and devastatingly effective in the ring.
To paraphrase Mark Twain, rumours of Cuba's amateur boxing demise may have been greatly exaggerated. They produced two champions from three finalists and, in light-heavyweight Julio la Cruz, have a boxer of the highest quality.
La Cruz is that rarest of Cuban commodities; an amateur fighter with an orthodox stance but he uses incredible footwork and lightning reflexes to retreat from harm's way, before retaliating with cobra-quick fists on the end of arms that appear to go on forever. It makes for a formidable combination.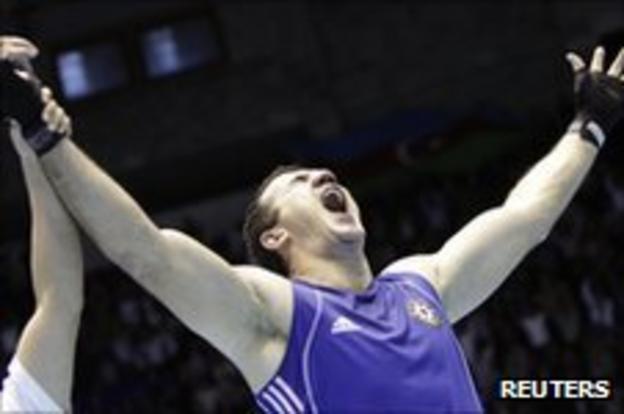 And it would be remiss not to give a special mention to Azerbaijan's Magomedrasul Medzhidov, conqueror of England's Anthony Joshua in the super-heavyweight final.
The newly crowned world champion might not win any prizes for technique but what he lacks in style is compensated for by an abundance of heart, will and determination.
In just about all of his contests he absorbed some tremendously heavy punches from elite fighters who weigh over 91kg. Yet his spirit was simply indomitable, willing his way forward in the manner of Rocky Marciano, or Balboa even, to land more bludgeoning blows than the other guy.
He received a standing ovation from the crowd, his cherished gold medal from the president of his country, and the Boxer of the Tournament award for his supreme efforts.
All in all, it was a fairytale finale to a fantastic World Championships.