Tyson Fury to fight Neven Pajkic, Commonwealth title on the line
Last updated on .From the section Boxing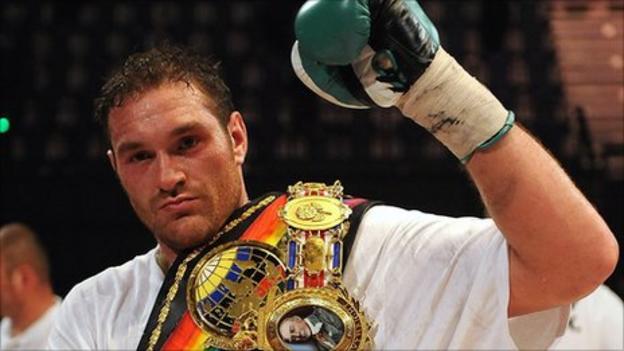 Tyson Fury will defend his Commonwealth title against 34-year-old Canadian Neven Pajkic in Manchester next month.
Both men will put unblemished 16-bout professional records on the line in the fight at EventCity, Trafford Park, on 12 November.
Fury's latest victory was a fifth-round stoppage over American Nicolai Firtha in Belfast last month.
The 6ft 9in tall 23-year-old also holds the British heavyweight title after beating Dereck Chisora in July.
After David Haye decided not to renew his boxing licence this week, former world featherweight champion Barry McGuigan described Fury as part of a very bright future for the British heavyweight division.
And Mick Hennessy, promoter of the fight, said: "In his last six fights, including the upcoming one against Pajkic, Tyson will have fought four undefeated fighters which is unheard of for a top heavyweight coming up the ranks.
"Tyson is old-school and he's doing everything the proper way. I honestly believe that, within 18 months to two years, not only will he be the number one heavyweight in the world, but the biggest name in the sport as well."
Pajkic, a native of war-torn Bosnia, moved to Canada in 1996 and is his adopted county's reigning heavyweight champion.
Rick Smiciklas, Pajkic's promoter, said there was already bad blood between the pair.
"I've never seen Neven show this much anger towards any other fighter," he said.
"It all started when Tyson called out Neven, who then flicked his towel at Tyson, and it's grown from there.
"Neven can't stand Tyson. Calling it a bitter rivalry is weak. Now, they can settle their bad blood in the ring."
The fight will be shown live on Channel 5.