Scott Harrison licence bid is rejected
By Phil Goodlad
BBC Scotland
Last updated on .From the section Boxing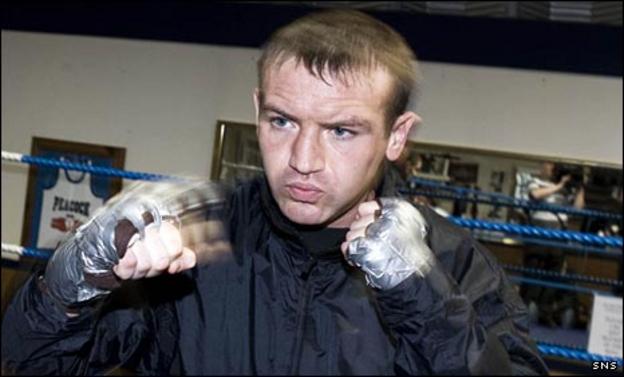 Former world featherweight champion Scott Harrison has been left shocked by the decision to reject his application to have his boxing licence back.
Following its meeting on Wednesday, the British Boxing Board of Control told the 34-year-old Scot he had not supplied all the relevant paperwork.
But he told BBC Scotland: "They have had every piece of paper they have needed. I don't know what's happened.
"I am still in the dark about what's happening with my future."
Harrison says he received the news by letter but has not had his telephone calls answered as he attempts to garner a more detailed explanation.
"I've got a family, three kids to provide for, which makes it more annoying," he said.
Harrison, who fears that the boxing authorities do not want him back in the sport, has been back in training after a spell in jail in Spain.
"I feel good," he said. "I feel confident of winning the world title again and being a three-time world champion, only if the British Boxing Board of Control return my licence.
"I'm shocked. Without my licence, I can't get back to work.
"I've got a family and I can't provide for my three kids without getting my licence back."
In April 2009, Harrison was sentenced to two-and-a-half years in prison after being found guilty of attempting to steal a car and assaulting two men in the vehicle as well as a policeman in October 2006.
The Glaswegian beat Victor Santiago to become WBO featherweight champion in 2002, lost it in 2003 to Manuel Medina but regained it from the same opponent later that year.
However, after pulling out of a title defence in May 2006, he checked into the Priory Clinic in London citing problems with depression and alcohol.
He was later stripped of his WBO title and his licence to box - and declared bankrupt.
Harrison failed with a previous attempt to regain his licence in 2008 and complains that the latest decision has put him "back to square one again".