Carl Frampton will not fight Kiko Martinez this year
Last updated on .From the section Boxing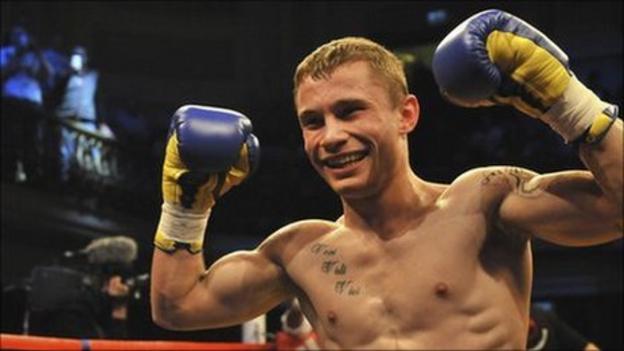 European super-bantamweight champion Kiko Martinez will not fight Commonwealth champion Carl Frampton this year, Martinez's promoter Pat Magee has confirmed.
A proposed date for a fight in Belfast in December has not materialised after their scheduled September contest had to be postponed.
"The fight will not take place this year as there is no suitable television date," said Magee.
Martinez is set to fight Martirosyan.
Martiroyan is the number two challenger for Martinez's mandatory defence.
"If Kiko is successful he would welcome a defence against Frampton in Belfast in the spring of 2012," added Magee.
Frampton had said that he was surprised by reports that the fight was to take place in December.
Frampton did make clear that he would be happy to fight Martinez - subject to satisfactory terms - and insisted that he would defeat the Spaniard.
Frampton was scheduled to face Martinez at the Odyssey Arena in September but the Spaniard pulled out of the bout because a family illness.
Instead, Frampton beat Australian Mark Quon in four rounds to land the vacant Commonwealth title.
Frampton has won his opening 11 professional bouts.
Martinez's record includes a stunning first-round knockout of Bernard Dunne in August 2007.
The Spaniard is in his third stint as European champion.