Burns hopes to rise to the challenge against Katsidis
Last updated on .From the section Boxing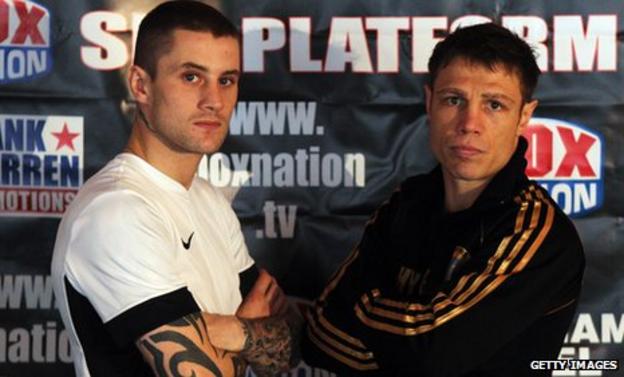 Ricky Burns says he's facing the toughest fight of his career when he takes on Michael Katsidis for the WBO World Lightweight Championship.
Burns, who gave up his world super featherweight crown, competes at his new weight for the first time in Saturday's bout at Wembley.
"It's just another chapter in my career," said Burns.
"Michael is a great fighter but I've always said, the better the opponent, the better I'm going to be."
The Glasgow boxer said last month that he was enjoying his new weight division as it was allowing him to concentrate more on boxing and less on diet.
And now he wants to prove himself at lightweight.
"The last couple of defences of my super-featherweight title were very hard for me," said Burns.
"I was constantly worrying about making the weight and boiling down to the nine stone four pounds limit.
"Now people are going to see a far stronger Ricky Burns. I've been doing a lot more upper body strength work and I look different."
"I couldn't have got a harder fight if I tried but these are the fights I wanted because you have to beat the best to be the best.
"As soon as the fight was made it was a big weight off my mind.
"People are writing me off and I know this is going to be the hardest fight of my life, but it will bring the best out of me.
"The first couple of rounds are going to be a key factor because he's a pressure fighter and I can't have him chasing me around the ring for 12 rounds."
Having defeated Graham Earl and Kevin Mitchell, Katsidis is seeking another victory over British opposition.
"When I go for a run here I feel like the air is fresher and cleaner," he said.
"I feel like I can breathe a lot more, so that enables me to train for more rounds.
"I feel like I have a new lease of life when I'm in England. I get a lot more out of my training when I'm here.
"I love the people here and the place. Boxing in Britain is great."