Obituary: Joe Frazier
Last updated on .From the section Boxing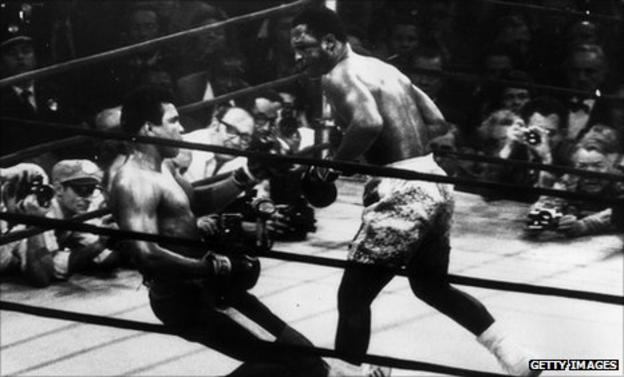 Joe Frazier, who has died of liver cancer at the age of 67, was one of the most significant players in the heavyweight division's most glorious era and one half of the most compelling rivalry in the history of boxing.
Frazier's three fights with Muhammad Ali in the 1970s constituted the sport's greatest ever trilogy and meant both men became inextricably intertwined. For Frazier, who always believed he was Ali's equal in and out of the ring, the fact he would always be defined and overshadowed by the so-called 'Greatest' was the cause of bitterness and chagrin.
Frazier, one of 13 children born to South Carolina sharecroppers, began boxing on his father's farm, where an accident involving the family hog left his arm crooked and therefore permanently cocked to deliver what would become his fabled left hook.
At the age of 15, Frazier left Beaufort and eventually pitched up in Philadelphia, where he forged a reputation as one of the finest amateurs in the United States. He won gold at the 1964 Olympic Games in Tokyo before turning professional the following year.
Frazier reeled off 19 straight wins and, when Ali was stripped of his titles in 1967 for refusing to fight in the Vietnam War, was matched against Buster Mathis for the New York State Athletic Commission's (NYSAC) version of the world heavyweight crown.
Mathis, who had beaten Frazier in the Olympic trials only to miss the Games because of injury, was stopped in 11 rounds. Then, in 1970, Frazier defeated Jimmy Ellis, who had won the World Boxing Association's post-Ali elimination tournament, to unify the division.
The same year as "Smokin' Joe" became undisputed heavyweight champion, Ali had his boxing license reinstated - and in 1971 the two men met for what was billed "The Fight of the Century".
It was the first time two undefeated fighters had contested the heavyweight championship of the world and consequently the bout became the most hyped in history. Both men were paid an unprecedented $2.5m for their efforts, but the fight was about much more than money.
The build-up brimmed with social symbolism, with the nonconformist Ali painted as a shining light of the anti-establishment movement and the no-frills Frazier put forward as an emblem of President Nixon's pro-War 'Silent Majority'.
In addition, Frazier, who had helped Ali financially during the latter's exile from boxing, was repaid for his kindness with a string of hurtful barbs, including the accusation he was "dumb", "ugly" and, most hurtful of all, an "Uncle Tom".
Frazier, the suffocating brawler to Ali's classical boxer, dropped his hated rival with his signature left hook on the way to winning a points decision after 15 gruelling rounds at New York's Madison Square Garden.
Frazier defended his title only twice in the next 22 months before he lost his title and his unbeaten record to the formidable George Foreman, who floored him six times en route to a second-round stoppage in Kingston, Jamaica.
Frazier's rematch with Ali in 1974 was a pale imitation of the first but the rubber the following year, dubbed the "Thrilla in Manila", eclipsed even their first encounter in terms of brutality.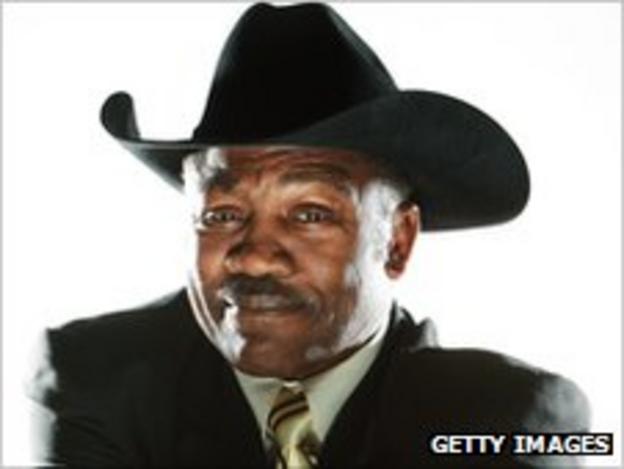 After another ill-tempered build-up, during which Ali, who had regained the world title from Foreman 12 months earlier, repeatedly called his opponent a "gorilla", the two men went toe-to-toe for 14 rounds before the challenger's corner threw in the towel. By that time Frazier, who fought much of his career unable to see out of his left eye, was almost blind.
In 1976, Frazier retired after being beaten by Foreman again, hanging up his gloves for a second time in 1981 following an ill-advised, one-fight comeback. His final professional record was 32 wins (27KOs), four defeats and one draw.
In retirement, Frazier helped guide son Marvis, one of 11 children, towards an unsuccessful world title shot against Larry Holmes. In 2001, his daughter Jacquelyn Frazier-Lyde fought Ali's daughter Laila and lost on a decision.
In recent years, Frazier's health began to fail and he fell on hard times. He was living above his eponymous gym in his adopted home-town before he was forced to sell it in 2009.
He remained bitter towards Ali almost to the end, seemingly taking a degree of pleasure in the part he might have played in the onset of Ali's own health problems, but there were signs he had softened towards his old rival in later years.
And Frazier was certainly on to something when he stated: "Ali always said I would be nothing without him. But who would he have been without me?"
Following the death of Joe Frazier, Mike Costello will take a journey back to the 1970s, when heavyweight boxing ruled the sporting planet, for a boxing special on BBC Radio 5 live Sport on Wednesday. You can listen to 'When They Were Kings' from 2130 GMT.