Chris Eubank Jr aims to surpass father
Last updated on .From the section Boxing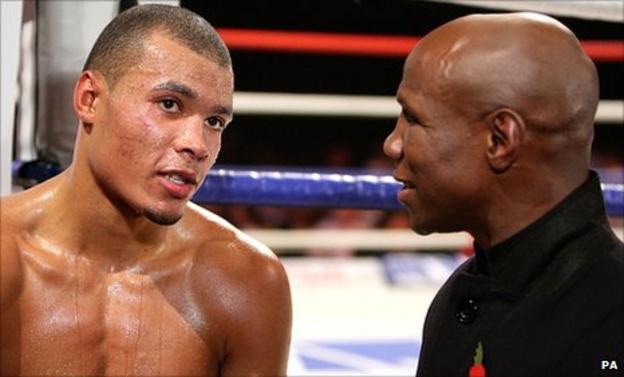 Chris Eubank Jr, the son of the former world champion, believes he can be even better than his father after winning on his professional debut.
"I've got royal blood coursing through my veins. I can't help myself doing what my father did," he told the Sun.
"I want to be able to prove I can become the same or better than him."
He added: "It's been my dream ever since I was a young teen. There's a lot to live up to but it makes me want to work harder to prove myself."
Eubank Jr was accompanied to the ring for a six-round contest by his father, to Tina Turner's Simply The Best - the same anthem that greeted his dad's ring-walks.
The similarities continued after the bell as the younger version, looking fast and stylish, gradually wore down Psonko, who maintained a high defensive guard throughout.
During his own career Eubank Sr was unbeaten at middleweight, winning the WBO title with victory over Nigel Benn in 1990.
He subsequently won the WBO title at super-middleweight, although his victory was overshadowed by serious injuries suffered by opponent Michael Watson.
Eubank drew a high-profile rematch against Benn and retired following defeats in five of his final nine fights - the last in July 1998 against Carl Thompson.
"It was an almost perfect performance," said Eubank Sr.
"The opponent was difficult to hit and that will give my son the experience needed."