Time for Willie Limond to call time on fine career
By Keir Murray
BBC Scotland
Last updated on .From the section Boxing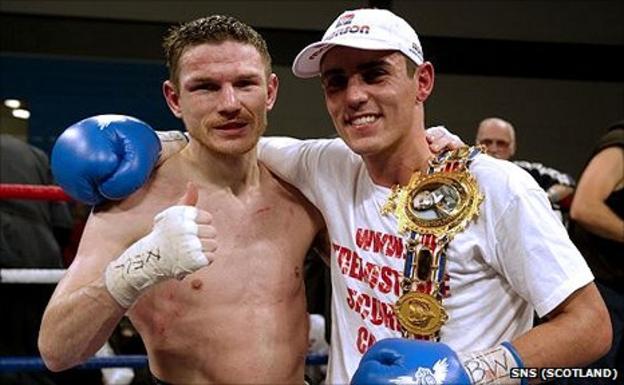 Willie Limond attracts devotion.
He had served his time as an apprentice joiner at the same time as Limond and was pleased to pay £40 to see his friend attempt to win the British lightweight title at Motherwell's Ravenscraig Sports Centre.
A vocal band of Limond followers cheered their down-to-earth hero as he entered the ring to The Jam's 'Going Underground'.
However, by the end they were drowned out by the Mancunian fighter's ecstatic fans.
And then there were the two youngest members of Team Limond, proudly sporting T-shirts on which their dad's face was emblazoned.
When they are a bit older, Limond's sons will understand the sacrifice their dad made to be a professional boxer and they will be proud of his achievements.
But after the defeat by Crolla, now is the time for the 32-year-old to call it a day.
He has been boxing since he was six, has won European and Commonwealth super-featherweight titles and has been a fine ambassador for Scottish boxing.
Limond has the respect of everyone in Scotland who loves the sport.
He can look at himself in the mirror and know that he has nothing to prove to anyone, not least himself.
Last September he was stopped by Erik Morales, a world champion at four weights, in Mexico City in front of tens of thousands of spectators.
At the more humble venue in Lanarkshire, Crolla, seven years younger, was too fast and too strong for the Scot.
The pair have been friends since Limond put Crolla up for a week at his home when he was in Glasgow to spar with Ricky Burns three years ago.
Yet, from the first bell to the last, Crolla let fly with both fists and the judges awarded him a 120-108 120-108 120-109 points decision. That's one scorer giving Limond one drawn round.
As ever, he fought gamely and tried everything he could to trouble the composed Englishman but at no point did he look like getting his hands on the Lonsdale Belt.
Limond's left flank was pink from the hammering it took from Crolla's crunching right hand; his eyes and forehead scuffed from the belligerence of his impressive opponent.
Before the bout, Limond described the contest as a crossroads in his career. "If I don't win this fight where do I go afterwards?" he had pondered.
And that's the problem - it would be a long road back to competing for titles at this level.
In his changing room after his defeat, he was as honest as ever about his performance. He admitted that he knew as early as the first round that he was in trouble.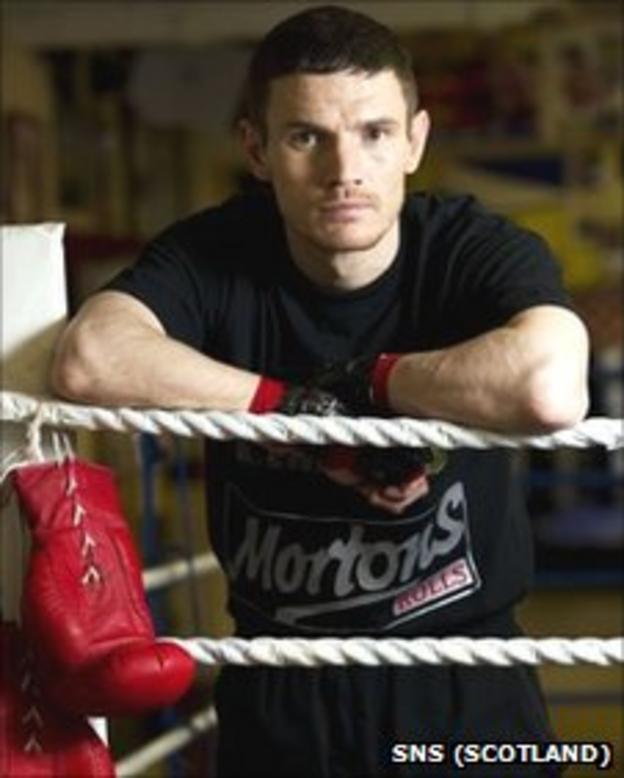 However, he wanted to delay a decision on his boxing future until he discusses things with his new manager, Tommy Gilmour, next week.
"There was nothing there tonight. I don't know what it was. Crolla was good and I wasn't," said Limond.
"He boxed better than me and won the fight.
"Tommy said he'd get me a British title fight and he stuck to his word. It's just maybe a few years too late down the road.
"The training camp was brilliant, sparring was brilliant, everything was spot-on.
"I've fought in front of 56,000 fans and performed but it just wasn't there tonight. I didn't produce the goods.
"My emotions are running high. It's easy to make rash decisions. I'll sit down with Tommy and see what happens."
Speaking on BBC Radio Scotland's Sport Nation programme on Saturday, Gilmour hinted that Limond may be about to retire from the sport.
"Sometimes, the boxer is the last to know," he said.
"Everything looks great in the gym, you're doing all the things that your trainer puts in your way, but when you get in there for the competition on the night, you don't deliver.
"You just become a shadow of yourself in one night."
And he added: "Willie has been a fine athlete through the years. He was a top amateur and then came through the pro ranks.
"It's hard work getting up [to train] in the morning, the diets.
"Willie is a level-headed fella. We'll sit down next week and we'll have a wee blether.
"He might decide that he wants to go out with a win just to let people know that Willie Limond is an exceptionally good athlete."
In a fairer world, Limond's hours pounding the streets and sparring in the gym, and his record of only four defeats in 37 fights - to Alex Arthur and Amir Khan in addition to Morales and Crolla - would have been rewarded by riches.
Instead, he'll likely return to his job as a joiner, where he'll be back among old friends - and fans.