London 2012: Row over skirts for women boxers continues at ExCel
By Paul Harris
BBC World Olympic Dreams
Last updated on .From the section Boxing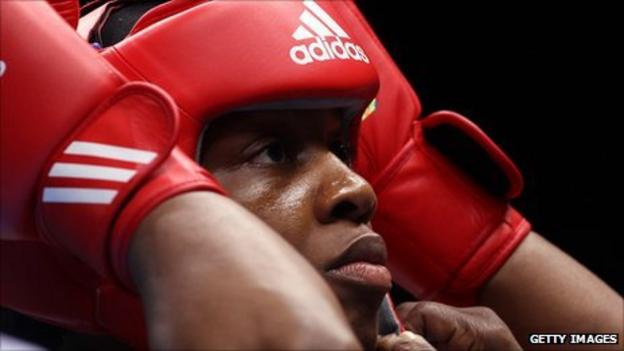 Two British women won gold at an historic Olympic test event this weekend but one issue continued to be debated fiercely around the arena - whether fighters should wear shorts or skirts.
Yet while the test event was taking place at the ExCel Centre, there was also plenty of debate over the recent controversy which led critics to brand the amateur boxing's organising federation (Aiba) sexist.
Reaction to Aiba proposals that female fighters should wear skirts has been mixed. In one corner, Britain's Natasha Jonas was damning in her criticism of the idea, saying: "The only people who would want to see women in skirts are men."
Whereas India's five-time world champion MC Mary Kom argued: "The tennis players wear skirts and the badminton players are wearing skirts so why don't the boxers wear skirts?"
The official line from Aiba is that competitors will choose what they wear: "It has never been Aiba's intention to make skirts compulsory for women boxers," said Aiba spokesman Sebastien Gillot. "Aiba is just sounding opinions from all around the world".
According to the organisers, skirts will help spectators to identify and distinguish female fighters from their male counterparts, but critics have likened the suggestion to Fifa president Sepp Blatter's request for women footballers to wear tighter shorts.
"I just don't feel comfortable and I think that's important to let you feel comfortable and relaxed when you get in the ring," claimed Natasha Jones, gold medallist in the lightweight division at the test event.
Locog boxing manager Matthew Archibald said: "It is quite a landmark occasion for us because it's the first time women's boxing is going to happen in the Olympic Games.
"We're really delighted and I think the whole Olympic movement is proud to see women's boxing included and it is well justified."
The ExCel conference centre, which will host seven Olympic and six Paralympic sports, can be likened to an airport. The walk from one end to the other seems unending - but the gate to each arena delivers you to a unique experience.
This weekend it offered boxing, fencing, table tennis and the Top Gear live show, highlighting an obvious parallel between the athletic power of men and women and their mechanical counterparts.
In an historic first, the ExCel will host women's boxing for the first time at an Olympics, despite the centuries-old popularity of the sport.
For a brief moment in 1904 women's boxing was an Olympic sport - it was a display event at the St Louis Olympics but London 2012 offers a new opportunity to female boxers.
One woman more responsible than most for this event being staged is "Battling" Barbara Buttrick. She was the first female boxing world champion and was invited to the test event to be photographed for a magazine, having participated in hugely popular exhibition fights half a century ago.
One of Buttrick's fights even appeared on television in 1954 but since founding the Women's International Boxing Federation (WIBF) she has worked to see women's boxing admitted as an Olympic sport.
After meeting Britain's hopefuls for gold at London 2012, Natasha Jonas and Savannah Marshall, who both won gold at the test event, Buttrick alluded to why she wants the chance to hang a medal around the neck of a winner.
"It's very satisfying to see how the sport has developed and to see women accepted on the same level as men. I had such a struggle with public opinion in my day but I just ignored it and carried on," she said.
Elsewhere, in a nation that has only won one individual gold medal at the Olympics, a mother of two represents the best hope of Olympic success next year.
MC Mary Kom is a five-time world champion from the Indian state of Manipur. She said: "We wore skirts at the last world championships and it's comfortable."
And despite her quarter-final loss at the Excel, she is upbeat about her prospects.
"Today is not my lucky day, before the bout I had a minor ankle injury," she says. "The world championships are the qualifiers for the Olympics so that is the main tournament and I will do my best for my country there."
Whether Mary Kom wins gold at London 2012 or not, she and her fellow female pugilists have already secured a victory of sorts by being given an equal footing on the Olympic stage.