Miguel Cotto gets revenge on Antonio Margarito
Last updated on .From the section Boxing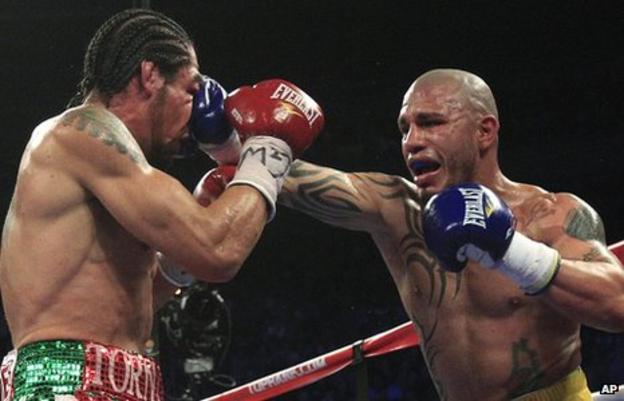 Miguel Cotto gained revenge for his 2008 defeat by Antonio Margarito by beating the Mexican to retain his WBA light-middleweight title.
On Saturday, Cotto beat Margarito into submission for nine rounds in New York before the fight was stopped.
Cotto improved his career record to 37-2 while Margarito fell to 38-8.
The two fighters have been sworn enemies since their first bout, where Cotto believed Margarito also used illegal hand wraps and claimed he had photographs to prove it.
Saturday's bout lived up to its billing as one of the most anticipated fights of the year, with scenes reminiscent of their previous savage encounter when Margarito triumphed with an 11th-round knockout.
However, Margarito, whose right eye required surgery after he was brutally beaten by Manny Pacquiao last year, was in trouble from the time Cotto opened up a cut in the third round.
Margarito responded with a flurry of punches as he desperately tried to land a knockout blow, but Cotto's defence stood firm and he continued to jab away at his opponent's eye.
By the seventh round the eye was closed shut, leaving the Mexican half-blind and, though Margarito pleaded to fight on, the bout was stopped before the start of the 10th.
"His [Margarito] lid was completely closed for three rounds. He had no vision in that eye. I think it would have been dangerous for him to go back in," said doctor Barry Jordan.
But Margarito, who had his initial application to fight Cotto rejected by the New York State Athletic Commission before then being granted a licence after passing further medical examinations, disagreed: "They were out to protect him [Cotto] because I was going forward.
"I hurt him. He hits like a girl. I never felt the punches."
When the fight was called off, Cotto marched over to his opponent to taunt him.
"Just to look at him and taste my victory on him," Cotto said. "I'm here with all my crowd and all my people. He means nothing to me."