Lamont Peterson has faced tougher tests than fighting Amir Khan
By Mike Costello in Washington DC
BBC boxing commentator
Last updated on .From the section Boxing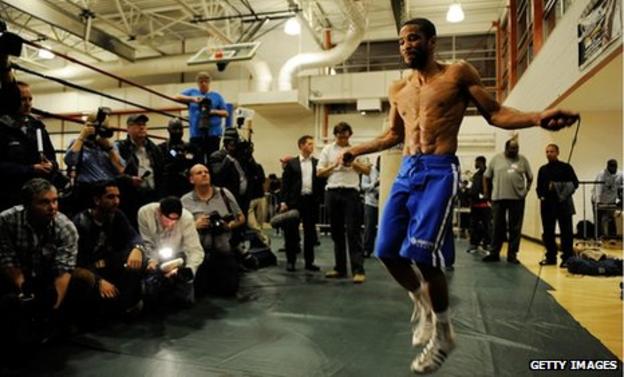 Lamont Peterson doesn't remember being a child, only an adult.
With their drug-dependent father in prison and their mother unable to cope with 11 children, they took on the dual roles of scavengers and breadwinners.
"We didn't have a home to go to," Lamont told me, "we didn't have to go to school, didn't have to answer to anyone.
"We paid for our own clothes, our own food. It was really rough, especially when it was cold and you're outside all night."
Lamont's lament? Not at all. It's his matter-of-fact recollection of the way it was.
"At the same time, it was fun. Think about it ... six, seven, eight-years-old and you can do what you wanna do."
But surely every child needs a hug and a cuddle sometime?
"If you don't know what a cuddle is, you kinda look past it. When I got older, I realised the things I missed."
He and Anthony were born a year apart but act like twins and those around them say the pair have a language all of their own. It's in the eyes, they say.
At a workout this week in front of scores of local youngsters at a gym in a bleak part of town, their brother-in-law Patrice Harris was still incredulous at the family's change of circumstances.
"Who could have known?" he asked, his voice trailing off.
Who could have known that one of the brothers would one day be fighting for a world title?
When homeless, the brothers would wash cars, carry groceries and generally hustle their way to survival. They fed not only themselves but as many of their family as possible. It was Harris who introduced them to trainer Barry Hunter and his gym which, at the time, was in the south-east of the city.
"They were living in a shelter home, a kind of foster home," Hunter remembers.
"Lamont was 10-years-old, he weighed 63 pounds (four-and-a-half stone) and was very quiet. You could look on him as being almost a mute.
"He would never talk. The first time he came to the gym, he stayed for two or three hours and never said a word.
"Then all of a sudden, I asked another young boy how many push-ups he could do. He said about 30 ... and Lamont shouted 'You're weak, man!' It kinda took us all back."
To back up his boast, Peterson dropped to the floor and "crunched out" 48. Hunter knew he had something.
"He had the kind of drive that was different from the norm."
Peterson wants to go to college when he retires from the ring, whilst acknowledging that he will never find a better tutor than Hunter.
"Barry taught me a lot about life. He told me that the way I was living was not the way it's supposed to be," he said.
"Up until that point, I didn't know any different, it was not only me and my brother and my sisters living that way, it was everyone around us.
"Barry changed my way of thinking. You can want more out of life and you can get more out of life."
As an amateur, Peterson won national titles and almost joined Khan at the 2004 Olympics, only to lose in a box-off.
Peterson drew against Victor Ortiz two fights ago and his only defeat as a professional came against Timothy Bradley two years ago, Bradley being the man who is regarded as Khan's most significant threat at light-welterweight.
While Khan, raised in the relative comfort of a middle-class family, cannot relate to Peterson's experiences, he recognises the backdrop.
The scheme funded by Khan and run for under-privileged youth at the Golden Gloves Community Centre in Bolton is the kind of project Peterson would have relished all those years ago.
Peterson, at 27, is skilful and well-schooled but Khan is better in most aspects and will start a kiln-hot favourite at the DC Convention Center on Saturday night [early Sunday morning in the UK].
However the challenger's trainer and mentor Hunter is undeterred: "What can a man show Lamont that life hasn't already shown him.
"If you get hit in life and get your ass back up there ... this man standing in front of you, he don't hit harder than life."
Styles make fights, they say. Lifestyles make this one.