Amir Khan says loss to Peterson will make him better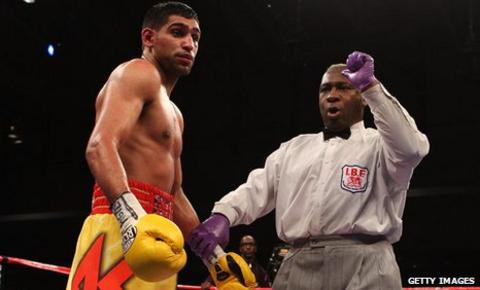 Amir Khan says losing his WBA and IBF light-welterweight belts to Lamont Peterson will make him a better boxer.
Hours after his points defeat in Washington DC Khan told BBC Sport "things happen for a reason" and said he will become a "more mature" fighter.
Khan repeated his claim he was "treated unfairly" during the title bout and was "fighting two people".
He said a rematch was "99% confirmed" but wanted it staged away from Peterson's Washington home.
Talking to BBC Sport's boxing commentator Mike Costello, Khan admitted that any potential fight against current WBC welterweight champion Floyd Mayweather Jr would now more likely be in 2013 than next year.
Khan said: "Maybe making me wait that couple more months will give me one more fight at 140lbs [light-weltweweight] and then I'll move up to 147 [welterweight], take one fight at that weight.
"Instead of taking that fight with Mayweather in 2012, 2013 is going to be perfect. This is only going to make me more mature, and make me a better fighter. It's perfect, everything happens for a reason."
As for the defeat by Peterson, Khan insisted he was happy with his display, and his team will formally question the performance of referee Joseph Cooper as well as the judges' scoring.
Two points deducted from Khan by Cooper for pushing proved crucial.
In a statement they said: "Following the decision in the fight, Team Khan and Golden Boy Promotions intend to make enquiries with the District of Columbia Boxing and Wrestling Commission, the IBF and the WBA regarding the performance of referee Joseph Cooper and will also be seeking clarification regarding certain ambiguities with respect to the scores of the fight.
"We look forward to an immediate rematch with Lamont as confirmed by Lamont and his manager/trainer Barry Hunter."
The judges scored the fight at 113-112, 113-112, 110-115 in favour of the local fighter, who has already agreed to give Khan a chance to win back the belts.
Before the fight, Khan said he wanted to retire in three years' time - after taking on all-comers in the weltwerweight division.
Fights against Mayweather and WBO champion Manny Pacquiao were mooted, but it is now back to the drawing board for the boxer.
"I know there is going to be a rematch now [with Peterson]. It will never be in [Washington] DC again, it will be somewhere neutral.
"All I want is a fair fight. This is what Amir Khan is all about. This is the character I am. I like to have a good tear up and put in good performances.
"I knew it would be tough against him in his home town and this is why boxing has not been in Washington DC for 20 years - because you get a decision like that.
"I thought he was going to head-butt me and that is why I pushed him."
Peterson admitted he would have no qualms about giving Khan the chance to win back his belts.
"He gave me a shot at his titles in the first place so I will give him a rematch, no problem," the new champion said.
"I came into this fight as the underdog with most people giving me no chance of winning. But I followed my game plan and I didn't get worried when I got knocked down in the first round."