Returning Scott Harrison targets third world title
By Phil Goodlad
BBC Scotland
Last updated on .From the section Boxing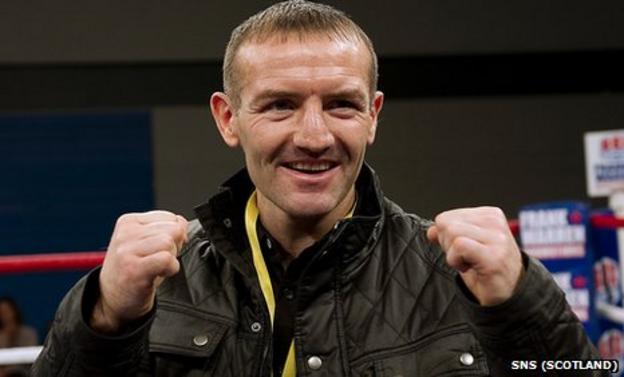 Scott Harrison believes he can be Scotland's first ever three-time world champion now that he has been granted back his licence.
The 34-year-old former featherweight champion has been absent from the ring for six years.
However, the Glasgow-based fighter told BBC Scotland: "I feel super fit and ready to go.
"I can now go back to work to provide for my family and win a third world title."
Harrison is trained by his father Peter, who said it won't be too long before his son makes a return.
But a decision is yet to be reached on what weight Harrison will fight at.
"We're looking at early next year, possible February for his first fight back," said Harrison snr.
"Make no mistake, Scott will become world champion again."
The British Boxing Board of Control made the decision to grant Harrison his licence after his case was backed by the Scottish Boxing Area Council.
"It's a nice early Christmas present for Scott and for Scottish Boxing," said SBAC chairman Bernard Connolly.
"We hope he returns to the standard he was at."
Harrison failed with a previous attempt to regain his licence in 2008 and was again unsuccessful in October of this year.
In April 2009, Harrison was sentenced to two-and-a-half years in prison after being found guilty of attempting to steal a car and assaulting two men in the vehicle as well as a policeman in October 2006.
The Scotsman beat Victor Santiago to become WBO featherweight champion in 2002, lost it in 2003 to Manuel Medina but regained it from the same opponent later that year.
However, after pulling out of a title defence in May 2006, he checked into the Priory Clinic in London citing problems with depression and alcohol.
He was later stripped of his WBO title and his licence to box - and declared bankrupt.
Harrison said in a statement: "I would like to thank Bernard Connelly and the Scottish Area Council for recommending I get my licence back.
"It has taken some time and the investigations into my physical and mental condition have been exhaustive. I don't think I could have done it without their support.
"I have made serious mistakes in my life and spent a considerable amount of time in a Spanish prison. These things change a person. I am changed.
"I have paid for mistakes and apologise to anyone who was hurt by my actions. I just want to get out there now and box to provide for my family."