BBC man on Carl Froch-watch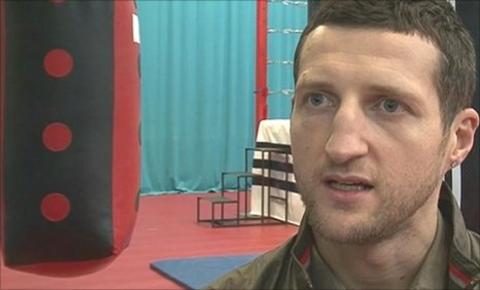 Seeing Carl Froch joking with television crews and seeing him so comfortable in the company of those who were charged with cleaning his hotel room, you would not have thought that the 34-year-old was two days away from the biggest fight of his career.
Having spent quite some time with Froch going back to 2003, he has never struck me as a joker. He has always been the serious boxer, the man with the plan, the focused fighter who has always had his eye on the biggest prizes in the sport.
But in the half-hour or so I spent in his company on Thursday lunchtime, he cracked more jokes than in the previous eight years put together.
Froch faces Andre Ward on Saturday night/Sunday morning in their world-title unification fight in Atlantic City and is looking to inflict Ward's first career defeat in the Super Six final.
I take his relaxed approach as a sign that he feels pretty confident in his game-plan and content with his surroundings. He has always spoken before about fighting in Nottingham, his home town, and how much more relaxed he is there in the build-up to a fight.
He knows what time to leave the house, the best way to get to the Nottingham Arena, where the dressing rooms are. And I wonder whether he has found it much more comfortable being in Atlantic City for a second time in his career - for the second time in succession - after the win over Glen Johnson here in June.
There are not many venues where Froch has fought more than once. The Nottingham Arena, the York Hall in Bethnal Green and now Atlantic City are the only places.
And having traipsed around the world to places as diverse as Mashantucket, Dagenham, Herning, Derby and Helsinki, you wonder whether being in a place for a second time is appealing to the home-loving boy.
Atlantic City is quite a different place to the one Froch visited in June. Gone are the huge numbers of people piling dimes into slot machines and landing chips on the roulette table.
It is a rather bleaker picture, with the beautiful sunshine replaced by a chill wind - feeling like an out-of-season English seaside resort.
You can hear commentary on Carl Froch v Andre Ward on Radio Five Live and BBC Radio Nottingham in the early hours of Sunday morning.
And you can follow Robin in Atlantic City on Twitter at @sportchippers