Carl Froch aims to secure legacy against Andre Ward in Super Six final
By Mike Costello
BBC boxing commentator in Atlantic City
Last updated on .From the section Boxing
Listen to Mike Costello, Steve Bunce and Eleanor Oldroyd preview the Ward-Froch fight on the BBC iPlayer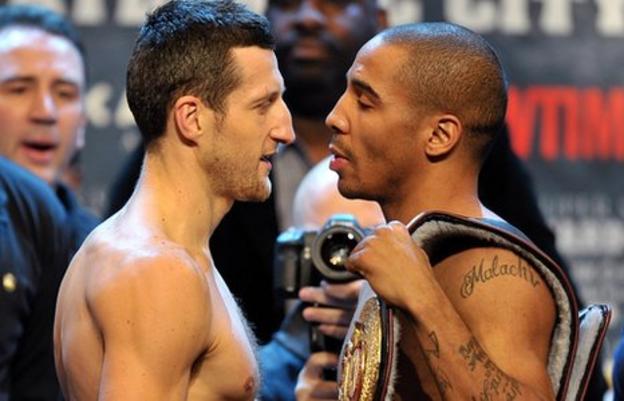 Andre Ward walked past me as he made his way to the scales. On stage at a theatre in Caesar's hotel here on the Boardwalk, Carl Froch was being serenaded by dozens of British fans in attendance.
Ward was talking to himself. "This is what it's all about … big-time boxing." He repeated it, almost chanted it, three times as he removed his tracksuit.
Up close to fighters at such times, it feels as if an electric current is fizzing across the stage, so highly charged are the two men.
Froch's trainer Robert McCracken demanded that Ward step back onto the scales for a second check, just to be sure the American's weight had not breached the 12st super-middleweight ceiling. Even the trainers play games.
And as important as the cornermen will be at the Boardwalk Hall, the ability of the boxers to adapt in mid-contest could be key.
In his last three fights, two of them in the Super Six Classic, Ward won every round on the scorecard of at least one judge. He has shown variety and versatility, speed and dexterity. He is hard to hit and even harder to control, with a reliance on a persistent and accurate jab.
Froch's bigger punches tend to travel in arcs and so Ward's straight shots will get home first unless Froch reacts. The Briton throws his jab from a low base-camp, believing it starts from outside his opponent's field of vision and therefore brings an element of surprise.
It also carries risk, as it leaves Froch vulnerable to an overhand right. In his last fight, here in Atlantic City against Glen Johnson in June, he was caught repeatedly in that area.
Froch will be less inclined to give Ward such free hits and his efficacy in cutting off the ring space and escape routes for Ward will be another crucial - maybe even decisive - factor.
The two opponents common to both in the Super Six are Arthur Abraham and Mikkel Kessler. Both outpointed Abraham comfortably but had differing fortunes against Kessler. Ward dominated before winning a technical decision in 11 rounds in 2009, while Froch was beaten on points by the Dane five months later. But the bare results are not necessarily a useful form guide.
Froch fought in Denmark at a time when the volcanic ash cloud was causing havoc with European air travel. At one stage during fight week, the promoters were convinced the fight would be called off. There is no question the uncertainty affected Froch's performance.
But what Ward's victory over Kessler did reveal is that the American is well-versed in the dark arts. Froch brings a barbaric, caveman approach into the ring and Ward has shown he has plenty of "street" in him too, when the occasion calls.
My co-commentator here, Paulie Malignaggi, knows Ward from their days as amateurs. He says the 27-year-old is mentally as tough as the best.
Ward was raised in Oakland, California, by his father, who died when Andre was only 16. Virgil Hunter, his long-time trainer, became his godfather and for two years Ward wrestled with grief on a level he can barely describe. Out the other side, he regrouped and won Olympic gold in the light-heavyweight division in Athens in 2004.
He last lost in 1998, in the Blue and Gold amateur tournament in southern California. Froch, also, has a strong amateur pedigree, having won world championship bronze in 2001.
They can box. And they can fight. Knowing when to do which will decide the outcome.