Amir Khan formally appeals to have Lamont Peterson verdict overturned
Last updated on .From the section Boxing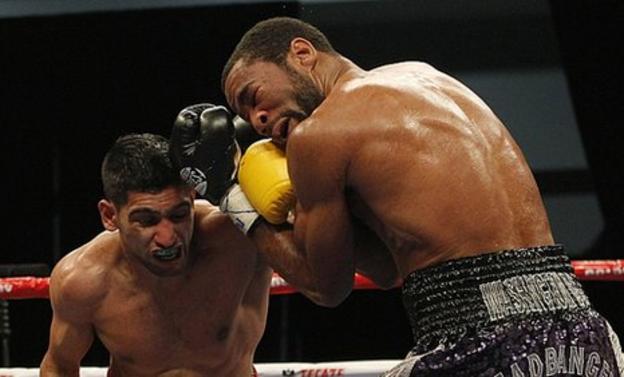 Amir Khan has formally appealed to boxing authorities to have the decision from his light-welterweight world title defeat by Lamont Peterson overturned.
Khan lost his IBF and WBA belts in a controversial split decision to home fighter Peterson in Washington after he was deducted two points for pushing.
His camp have been informed by the WBA and IBF that an appeal will be held in mid-January after an investigation.
They either want the decision overturned or an immediate rematch.
Separate to the appeal, they have offered Peterson a "seven-figure sum" for an immediate rematch in Los Angeles in May, but he has yet to return their calls.
Khan's team are unhappy with referee Joseph Cooper and also questioned the judging of the fight.
Richard Schaefer, head of Golden Boy Promotions - Khan's US-based promoter - says the IBF master scorecard "disappeared" immediately after the fight, only for an IBF scorecard to be produced 48 hours ago that Schaefer claims was clearly made subsequently.
"There is clearly some smoke in relation to the scorecards. Where there's smoke, there's fire," said Schaefer.
Commenting on referee Cooper, Schaefer said: "There is nothing in the rules related to pushing - even excessive pushing isn't a foul.
"There was clearly no basis for a one-point deduction, and certainly not for a two-point deduction.
"Peterson was warned throughout the fight about using his head, but Cooper never deducted a point from him.
"The fact is this is one of the worst cases of home cooking I have seen."
Khan had Peterson on the canvas twice in the opening round of the bout - although only one was officially counted - and his two-point penalty proved costly after judges scored the fight 113-112, 113-112, 110-115 in favour of the local fighter.
Khan's camp, who opted not to seek a rematch clause in the contract prior to the bout, had until Tuesday to lodge a formal complaint against the verdict.
"This decision must be corrected. I hope it will be corrected," added Schaefer.
"The WBA and IBF have an opportunity and obligation to do the right thing."
The preferred option for Schaefer is to see the result overturned, but if that outcome is not forthcoming, he wants to see Peterson honour his pledge for an immediate rematch.
"We've been able to secure the Staples Centre in LA on May 19 - neutral ground for both fighters," he said.
"We've made Team Peterson a seven-figure offer and are waiting to hear back from them. I'd be shocked if they don't offer a rematch."
The IBF said on Monday that they saw no grounds for an immediate rerun of the fight.
"We found no discrepancies that would affect the outcome or the result of the fight," IBF championships chairman Lindsay Tucker said.
"We decided not to order an immediate rematch on the basis of the fact that in the rules, if the referee feels that it's a foul, then that's his call to take a point," added Tucker. "He did warn Khan several times before he actually took the first point."
Although it is rare to have decisions overturned, WBC light-heavyweight champion Bernard Hopkins has been successful in having October's fight against Chad Dawson changed from a loss to a technical draw.