Amazing Andre Ward made Carl Froch look bad
By Mike Costello
BBC boxing commentator
Last updated on .From the section Boxing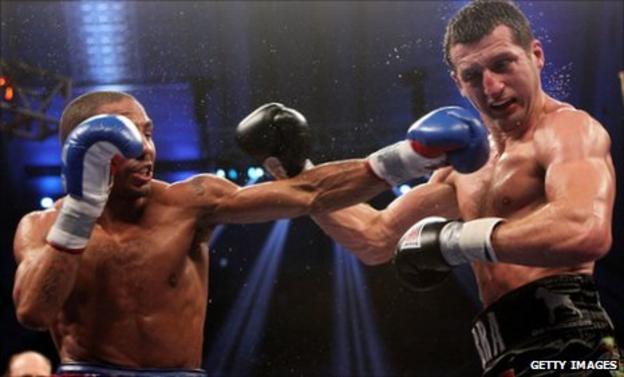 Some boxers have a knack of making violence seem almost graceful. Andre Ward is one of them.
Ward dominated at medium and long range, as many had expected, but the surprise for Froch and others was how effective Ward was up close.
Froch had won five of his six world title fights - in a sequence hailed as the most gruelling undertaken by a British boxer in the TV era - and yet Ward at times toyed with him. As Mayweather proved against Hatton, there are grades above even world champions.
Froch threw an average of 56 punches per round, compared with 69 in each of his previous Super Six fights. The reduction in workrate was caused by two factors: Ward was so accurate and so hurtful that Froch was preoccupied with defensive measures; and when he did get set, Froch was made to miss so often that he became apprehensive in attack.
In years to come, Froch might come to reflect differently on the result. Ward, at 27, is adamant there is more to come. His long-time trainer (and godfather) Virgil Hunter believes his charge is operating at 90 per cent of his potential. As horse-racing trainers are apt to say, he could be anything.
Two of the judges somehow scored the fight to Ward by only seven rounds to five. The American John Stewart had them level with two rounds to go. He will wince when watching the replay.
Forget the controversy following Amir Khan's defeat by Lamont Peterson in Washington DC a week earlier, which was blown out of all proportion. This justified the term "disgrace" - but because the right man won, the smell didn't last long.
The fact is that the English judge John Keane, who made Ward the winner by 10 rounds to two, provided a much more accurate measure of the fight.
Froch himself summed up the outcome after I had interviewed him for Radio 5 live: "It wasn't that close, was it?"
He then told me that, usually, when he unwraps the bandages after fights, his hands are swollen and sore. This time, they were unscathed. "Because I couldn't catch him," he said with a wry smirk.
For Froch, many options remain. A rematch with Denmark's Mikkel Kessler, who beat him last year in Froch's only previous reverse in a world title fight, or a challenge to the IBF title-holder Lucian Bute of Romania are possibles.
And, given his comment last week that he felt he had four more years in the game, he could still be around if or when George Groves and/or James DeGale graduate to world championship class.
Ward, though, has left the building. He belongs in a different class.
Two years ago, relatively unheralded outside Oakland, California, he began the Super Six Classic with an inside-the-distance dismantling of Kessler, a man previously beaten only by Joe Calzaghe.
The former Olympic champion followed up with wins against Allan Green and Arthur Abraham, contests in which at least one judge gave Ward every round.
Like the best in any sport, he finds time under pressure. Where the mere mortal panics in the rush, he appears to see everything in slow motion, giving him more time to react.
Someone asked me at the post-fight press conference: "Was Froch that bad or was Ward that good?"
In truth, Froch was that bad because Ward was that good.