Ricky Burns content to lead quiet life
By Keir Murray
BBC Scotland
Last updated on .From the section Boxing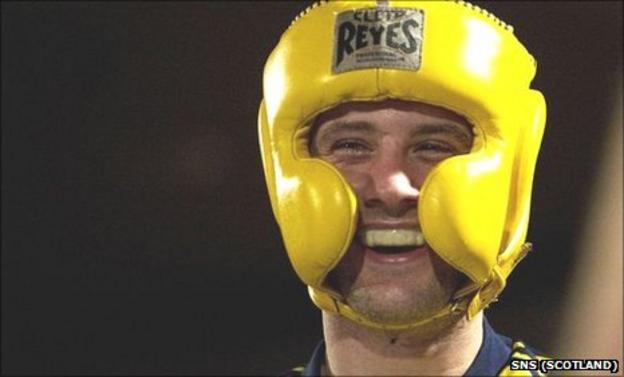 Ricky Burns has admitted he is still coming to grips with the changes in his life since becoming a world champion.
"I am still struggling to take it all in," said the Scottish lightweight, who won the WBO super-featherweight title from Roman Martinez in September 2009.
"But everybody who knows me knows what I am like. I am a quiet guy."
Burns beat Michael Katsidis last month to become interim WBO lightweight champion and will take on a yet-to-be-named opponent on 10 March in Glasgow.
The venue for that bout has not been announced but Burns' preference is clear.
"It would be hard to beat the atmosphere at the Kelvin Hall that night I beat Martinez. We'll see what happens," said the 28-year-old from Coatbridge.
"I'm in full training for it. Hopefully everything should be confirmed in the next couple of weeks."
Kevin Mitchell, John Murray and Anthony Crolla have been mentioned as possible opponents for Burns in 2012.
Crolla's fans were keen to let Burns know that their hero had him in his sights after watching the Mancunian fighter beat Glasgow's Willie Limond at Ravenscraig last month.
They goaded Burns, who was working on the television coverage of the bout, repeatedly chanting "Crolla's going to get you!"
"I know my manager and promoter have been talking to his manager, Ricky Hatton," said Burns.
"I know he is keen to get a shot at me. I will fight anybody, I have always said that. A fight's a fight."
Juan Manuel Marquez remains the WBO lightweight champion but it is unclear if the Mexican has plans to carry on in the division or relinquish his title.
"We are still waiting to find out what he is going to do, whether he is vacating or whether he is moving back down," explained Burns.
"I will take it a fight at a time. I leave it to my manager and promoter. They pick and choose who I fight. I can only fight who is put in front of me. My dream fight would be Marquez so I'll keep my fingers crossed."
Burns may have started preparing in earnest for his next fight but that won't stop him enjoying a Christmas dinner.
"Because my fight is 10 March I have started back training but I can eat what I want through Christmas," he laughed.
"I have had times when I have had to train and I have been on the chicken and rice diet but not this year.
"I am just so much happier now. I am concentrating on the boxing side of it rather than the dieting. I am still growiing into the lightweight but no doubt in a couple of years I'll be looking to move up again.
"I'll get Christmas and New Year over and then I'll start back."