The Bayonne Bleeder - Meeting the real Rocky
By Mike Costello
BBC boxing commentator
Last updated on .From the section Boxing
Listen to the BBC Radio 5 live programme again on BBC iPlayer (available until 31 December)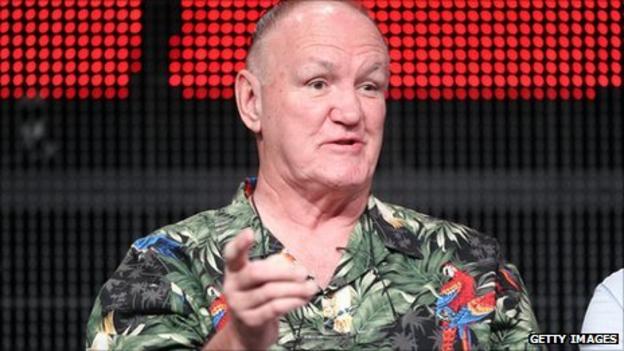 "I'm looking at this bear and he's got those beady little eyes."
We haven't had many better opening lines to an interview on BBC Radio 5 live. Chuck Wepner was speaking as part of a trailer for our special programme about the life of the "Real Rocky" which was broadcast on Christmas Eve.
Wepner fought Muhammad Ali for the world heavyweight title at the Richfield Coliseum in Ohio on 24 March 1975.
Watching a closed-circuit broadcast of the fight in a theatre in Philadelphia was a young, struggling actor called Sylvester Stallone. He was inspired to scribble a screenplay and 35 years ago this month, "Rocky" went on general release in the US. It would later win the Oscar for Best Picture.
Stallone was captivated by Wepner's display of courage. The Bayonne Bleeder, as Wepner had become known, was picked off at will by Ali but survived until the closing seconds of the 15th and final round, even flooring The Greatest in the ninth - although the knockdown is still disputed, as film appears to show Ali tripping on Wepner's foot while back-pedalling.
I went to see Wepner at his home in Bayonne, New Jersey, during a recent trip to the US to cover the scraps involving Amir Khan and Carl Froch.
Now 72, he lives in a spacious, two-bedroom apartment with his wife Linda. He's lucid and lively and it's hard to see more than faint traces of any of the 328 stitches that held parts of his face together at various points in his career.
His life changed on that one night in March 1975. By then, Wepner had been beaten nine times but was on a winning sequence of eight and was promised a title shot by promoter Don King.
They thought it would come against George Foreman - but Foreman was beaten by Ali in the Rumble in the Jungle in Kinshasa in October 1974 and so the plans changed.
Had Foreman beaten Ali, there would have been no Ali-Wepner fight. And no "Rocky".
It was the first big title fight King promoted on his own and it happened six months before the Thrilla in Manila between Ali and Joe Frazier.
James Brown - who would later sing in Rocky IV - sang the American national anthem ("murdered it", according to Wepner) and what was a routine title defence for Ali became the most important night of Wepner's time in the ring, one that would shape the rest of his life.
Wepner was a joy to share time with. He has perfect recall of his exploits in the ring and an endless stream of anecdotes about the golden age of heavyweight boxing.
It's been some life, as a US Marine, a fighter, a womaniser, a drug addict, a convict and now enlivened by a late attachment to celebrity.
A documentary aired two months ago on ESPN in the States and a film of his life (no Stallone in this one) is scheduled to go into production next year.
One of the bravest bruisers ever to lace on the gloves, his ring log shows 35 wins, 14 defeats and a couple of draws, compiled across a 14-year span.
He fought Ali, Foreman, Liston and Joe Bugner, oh, and Victor the Bear.
The confrontation with the bear included a rematch. And he swears Victor remembered him from the first time ...