World rankings reflect well on GB boxers in Olympic year
Last updated on .From the section Boxing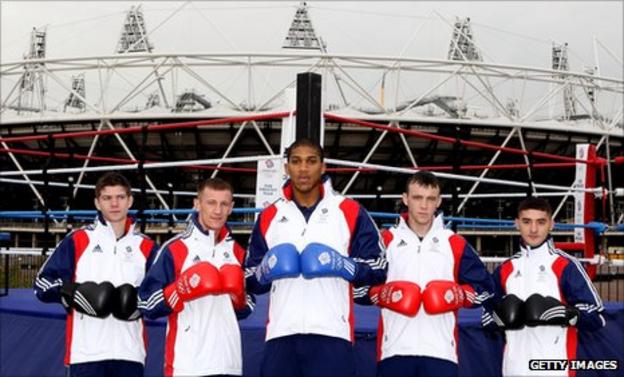 Great Britain has five boxers in the top three of their weight classes in the new International Boxing Association rankings.
Light-welterweight Tom Stalker is ranked number one at 64kg following his medal-winning performances at the European and World Championships.
Flyweight Andrew Selby is ranked second in the world at 52kg.
Luke Campbell (56kg), Fred Evans (69kg) and Nicola Adams (51kg) are all ranked third in their divisions.
Campbell begins 2012 rated as the third best bantamweight, with Evans in the same position at welterweight.
Adams is expected to improve her flyweight position when the rankings are next updated as a result of her gold medal in the 2011 European Championship in October.
Super-heavyweight (+91kg) Anthony Joshua has improved his ranking from 46 to four in the world following his spectacular arrival on the international scene, culminating in a silver medal at the World Championship in Baku.
Stalker, Selby, Campbell, Evans and Joshua have all qualified for the 2012 London Olympics.
The rankings reflect a year of unprecedented success for British boxing. At the European Championship in June 2011, Evans and Selby won gold and Stalker and Charlie Edwards took silver and bronze.
In the autumn the men went on to record Great Britain's best-ever performances at the World Championship in Baku when Selby, Campbell and Joshua won silver and Stalker secured bronze.
After Adams became Great Britain's first female European champion she was joined on the podium by Natasha Jonas and Savannah Marshall, who won bronze medals in the 64kg and 75kg categories.
The GB squad finished the year with five gold-medal-winning performances at the Olympic test event held at London's Excel Arena.
GB Boxing's performance director Rob McCracken said: "To win 11 medals at three major tournaments and have five boxers qualified for the Olympic Games is a superb achievement.
"All of the men and women in the squad have made significant progress in the last 12 months and the results they have achieved show they are accomplished international performers that can challenge for a medal in every tournament they enter.
"It augurs very well for next year and as long as the boxers continue to work hard and maintain their levels of performance then we have every reason to feel confident as we head into 2012."