Nathan Cleverly has no chance of Bernard Hopkins bout - Joe Calzaghe
By Peter Shuttleworth
BBC Sport Wales
Last updated on .From the section Boxing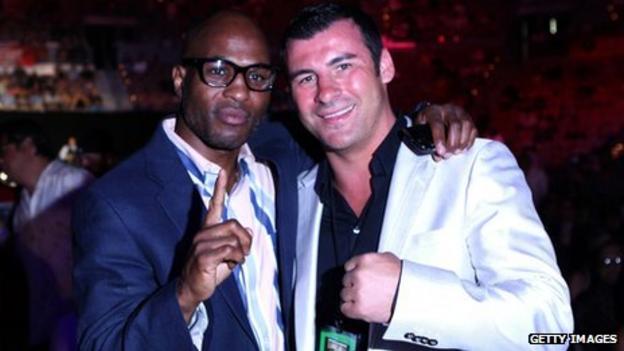 Joe Calzaghe has warned WBO light-heavyweight champion Nathan Cleverly to forget about a unification showdown with American great Bernard Hopkins.
The former two-weight world champion insists Hopkins, who celebrates his 47th birthday next week, wants a big-name rival for a big final payday.
And Calzaghe insists he will not answer Hopkins's call to return after retiring undefeated in February 2009.
"I don't think he has any intention of fighting Nathan," said Calzaghe.
Cleverly will defend his WBO crown for a third time against 'unknown' American Tommy Karpency in his Welsh homecoming on 25 February but the 24-year-old wants a summer unification show with WBC champion Hopkins or WBA title-holder Beibut Shumenov.
"Bernard Hopkins is a 46-year-old man looking for a big, big payday against a big-name fighter," Calzaghe told BBC Radio Wales' Back Page show.
"Hopkins will only fight if he gets a big payday and a big name.
"Nathan is in the early part of his career and I'm not sure you can build that fight up. He is not known in America.
"And Nathan, who is an up-and-coming fighter, is too dangerous for Hopkins."
Calzaghe beat Hopkins on a contentious split points decision in Las Vegas in April 2008 just hours after Calzaghe's fellow Welshman Cleverly beat American Antonio Baker at the Thomas and Mack Center.
Cleverly then trained alongside mentor Calzaghe at Enzo Calzaghe's famous gym in the Gwent valleys and was the undisputed super-middleweight champion's sparring partner ahead of that Hopkins showdown in the United States.
A Hopkins v Cleverly clash seemed to be edging closer when it was reported Hopkins did not want a rematch of his controversial WBC title fight with Chad Dawson.
But Calzaghe thinks that is unlikely - and the former Ring Magazine light-heavyweight champion, who turns 40 in March, insists he is resisting calls to come back and take on Hopkins again.
"I think he's just having a bit of fun," said Calzaghe. "I spoke to him not long ago and said I'm not coming out of retirement.
"It was quite funny as he was asking me to come back and fight. I suggested a 60/40 split and that soon shut him right up.
"It was all in good humour. But I'm three years out of the ring and I'm done with boxing."
Cleverly has admitted Karpency was not his first-choice opponent as he wanted a unification shot.
But Calzaghe warned the young champion that had to wait nine years between winning the WBO super-middleweight title against Chris Eubank in 1997 and unifying the division by defeating Jeff Lacy in 2006.
"I found it difficult to get a unification fight and when someone else is champion it is difficult to bargain with them as they want more money and they want you to go to their back yard," said Calzaghe
"So it is understandable that Nathan wants to fight in his home town.
"Nathan is still very young, in the early stages of his reign, and he will keep improving as he gets more experience of world title fights.
"I've never heard of his opponent. Sometimes I fought guys I have never heard of and you can't underestimate them. You must do your job and knock the other guy out."