Former British and Commonwealth champion Brian Curvis dies
Last updated on .From the section Boxing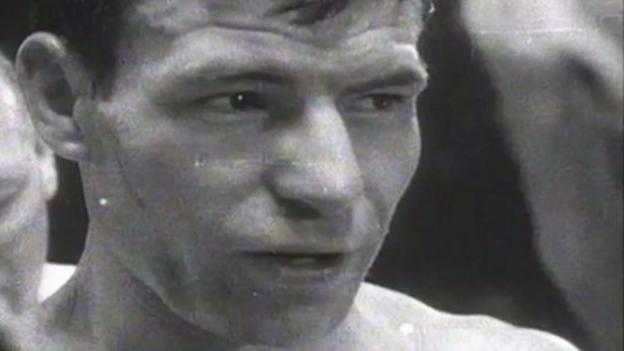 Former British and Commonwealth welterweight champion Brian Curvis has died, aged 74.
Curvis, from Swansea, fought for the WBC and WBA titles in 1964, but lost a unanimous points decision to champion Emile Griffith at London's Empire Pool.
That defeat was one of only four suffered by Curvis in 41 contests between 1959 and 1966.
Described as an intelligent southpaw, he was awarded the BBC Wales Sports Personality of the Year award in 1960.
Curvis was knocked down in the sixth, 10th and 13th round against renowned champion Griffith, but speaking to BBC Wales in 1989 he said: "I don't see the Griffith fight as a failure. To me it was a triumph.
"There was the greatest pound-for-pound champion since the legendary Sugar Ray Robinson, and there was I - not at my very best - yet he couldn't knock me out, he couldn't stop me inside the distance. And there were a lot of thing he couldn't do that night.
"What he did, of course, was get the decision and it happens that I lost that night."
After winning his first 13 fights as a professional, Curvis won the Commonwealth title against Australian George Barnes at the Vetch Field, Swansea in May 1960.
Six months later, he added the British title by beating Wally Swift in Nottingham and ended his career without ever losing to a British fighter.
Curvis's elder brother, Cliff, who died in 2009, was also a British and Commonwealth welterweight champion.
In a statement, the British Boxing Board of Control said: "The British Boxing Board of Control send their condolences to his family and friends."