Lamont Peterson's camp hit back at Amir Khan complaints
Last updated on .From the section Boxing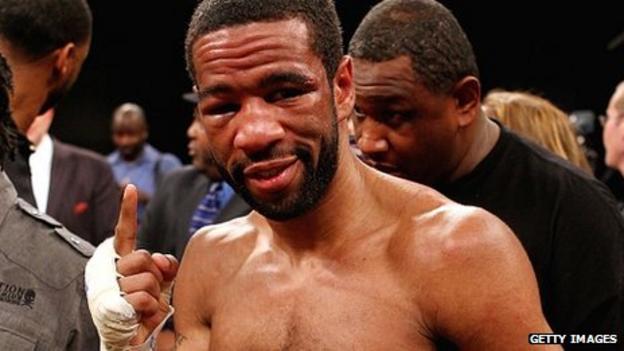 Lamont Peterson's manager and trainer has vowed to fight efforts to overturn his charge's victory over Amir Khan.
Khan is upset the referee deducted him two points for pushing and alleges the scorecards were interfered with.
"We will not let these foul tactics take away from Lamont's hard work and monumental victory," said Barry Hunter.
"Khan blames everyone and everything but his performance and lack of ability to make adjustments in the ring for his loss.
"Each claim is boldly false, but because Golden Boy [Khan's promoters] and Khan have the financial resources to file protests and lawyers to create questionable accusations we are forced to address these issues."
Khan, who lost his WBA and IBF light-welterweight belts on 10 December, alleges that a previously unidentified man, now named as Mustafa Ameen, interfered with the scorecards during the fight.
The IBF has confirmed that Ameen is not a boxing official, but a community worker who helps educate retired boxers.
The statement by the IBF appeared to add weight to the Khan camp's demand for the bout to be declared a no-contest and a rematch ordered. Such a move would see Khan's world titles reinstated.
The WBA, meanwhile, told BBC Sport it would like to see a rematch because of questions over the integrity of the bout.
However, Hunter continued in a statement: "Mustafa Ameen is in no way, nor has he ever been, affiliated or associated with anyone within Team Peterson.
"If the media reports are true, the WBA president [Gilberto Mendoza] personally believes there should be a direct rematch of the fight.
"This was oddly stated before an official review had taken place [or an] official response or decision from the WBA review committee had been presented regarding the various protests and our formal submission.
"That makes me wonder what procedures were actually followed before the WBA president made these public statements? The rules should be followed by everyone.
"It would be an understatement to characterise Lamont as being disappointed in the unprofessional manner in which Khan is attempting to discredit his performance in the ring and victory.
"We were raised to conduct ourselves where champions display professionalism, both in victory and defeat.
"Lamont previously tasted defeat and handled it the way it should be handled. He worked harder on areas that needed improvement to maximise his performance in the ring. Now, he is world champion."