Amir Khan hearing into Lamont Peterson bout to begin
By Richard Conway
BBC Sports News Reporter
Last updated on .From the section Boxing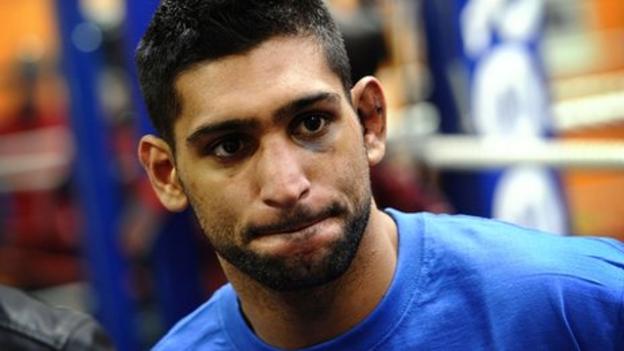 Amir Khan will face Lamont Peterson again on Wednesday at the International Boxing Federation hearing into their controversial fight last month.
The International Boxing Federation panel have confirmed scoring supervisor Michael Welsh will not be present to give evidence to the three-man panel.
Welsh is seen throughout the fight being spoken to by 'mystery man' Mustafa Ameen, whose influence on the official Khan has called into question.
Khan and Peterson will both attend.
Ameen will also be at the hearing in Newark, New Jersey, and has stated he plans to defend his actions.
The IBF confirmed last week that Ameen is not an employee, but has conducted "outreach" work for the organisation in the past.
It requested credentials for him to attend the fight in Washington DC on 10 December, which was awarded to Peterson on points, but stated he was not there in an official capacity.
The media will not be allowed access to the proceedings but a spokesperson confirmed that the IBF intend to release footage on their website "within two to three days after the hearing".
Jack Reiss of California, Sam Viruet of New York - both of whom are referees - and Glenn Feldman, a boxing judge from Connecticut, will conduct the hearing.
They will have up to 10 days to deliver their judgement and, if they allow Peterson to keep his IBF belt, a rematch is less likely.
With giants of the sport like Manny Pacquiao and Floyd Mayweather Jr potentially looking for box-office opponents later this year, Peterson could yet opt to vacate his titles in return for a more lucrative payday as a welterweight.
In losing to Peterson, Khan relinquished both his IBF and WBA belts, but the WBA last week ordered a rematch between Peterson and Khan to take place within 180 days.