Amir Khan - Lamont Peterson hearing cancelled as appeal withdrawn
Last updated on .From the section Boxing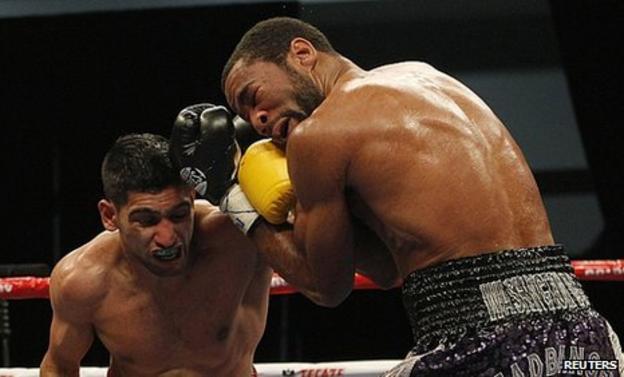 The International Boxing Federation hearing into Amir Khan's defeat by Lamont Peterson has been cancelled after Khan's camp withdrew their appeal over the controversial result.
Khan's promoters Golden Boy Promotions said their change of direction was because of "only partial representation of fight officials who were involved".
The IBF later insisted "a fair and just hearing" would have been provided.
Khan has already been offered a rematch for the WBA version of the belt.
But Peterson's camp has submitted a "comprehensive written appeal" against the WBA's decision to order that rematch for the light-welterweight title.
According to the head of Golden Boy Promotions, Peterson has yet to respond to the offer of a fight on 19 May with the money split 50/50.
Khan lost the WBA and IBF titles when he was beaten by Peterson on points and subsequently appealed to have the decision overturned.
The Bolton boxer also questioned why an unidentified man, later named as Mustafa Ameen, had appeared to "interfere" with scoring officials such as Michael Welsh.
Khan tweeted that he would "never...fight for the IBF again". He continued: "WBA want an immediate rematch so I'll stick with that. I'll prove I won in the rematch but do not want the IBF involved."
In its own statement, the IBF countered by saying that scoring supervisor Michael Welsh would have been the only person involved in the fight not present at the hearing.
"The IBF has no subpoena power and therefore could not compel Mr. Welsh to be present and provide testimony at the hearing. This was an unfortunate circumstance but one beyond the IBF's control," the statement said.
"All attempts were made by the IBF to provide an equal and fair hearing for both the Khan and Peterson camps as well as to provide as much disclosure possible to satisfy the public interest while not compromising the matter."
The IBF added that Mustafa Ameen, the "mystery man" at ringside on the night of the fight in December, would have been present at the hearing, while, in an exclusive BBC interview, Ameen has defended his own involvement at ringside.