Tyson Fury vacates British and Commonwealth heavyweight titles
Last updated on .From the section Boxing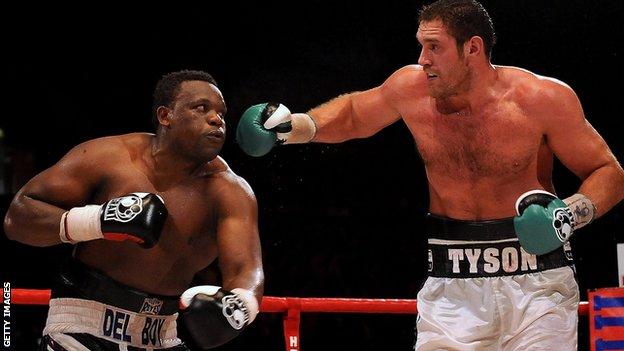 Tyson Fury has vacated his British and Commonwealth heavyweight titles after a proposed bout with English champion David Price fell through.
Fury's promoter Mick Hennessy claimed Price's camp rejected £100,000 to fight his man, who is unbeaten in 17 bouts.
"If David Price really believed he could beat me, the smart move would have been to take the great payday to appear on terrestrial TV," said Fury.
Unbeaten Price won the English title in his last fight against John McDermott.
Fury, 23, added: "I'm really excited about my future plans as I'm doing things differently and currently training like a Trojan in pursuit of becoming heavyweight champion of the world.
"It's been an honour to have won and held both the British and Commonwealth heavyweight titles, but as I'm now currently number seven in the world it's time to move on."
On his company's website, Hennessy said: "We have a great schedule in place for Tyson on Channel 5 and I'm not prepared to have that affected by other promoters, purse bids and titles.
"Fury versus Price was a quality fight and, in my opinion, it should go out to the widest possible audience. That's why I offered David Price £100,000 to fight Tyson Fury on Channel 5, which unfortunately was rejected by his promoter on Monday.
"Tyson's next steps and further information will be announced over the next few days."
However, Price's promoterFrank Maloney claimed that Hennessey's camp did not want the fight.
"Boxing is all about money," he said. "I believe Tyson Fury will regret turning this fight down.
"As a promoter you take a risk when it comes to purse bids, you can bid too high and make a massive loss or too low and stand the chance that your fighter will fight on another promotion and TV channel.
"The BBBofC [British Boxing Board of Control] have purse bids for a reason and this fight generated more interest than normal with all the top promoters in the UK bidding for it.
"This is a real disappointment for us all. A show that all heavyweight boxing fans wanted to see gets taken away before any chance of a bid was accepted."
Maloney added: "He [Price] will definitely fight for the vacant British and Commonwealth titles in his next fight."
The British Boxing Board of Control had called for purse offers to be submitted to their offices in Cardiff on Wednesday for the fight, a mandatory defence of both titles.
In a statement the board's secretary Robert Smith confirmed: "Prior to purse bids being opened today, Mr Tyson Fury relinquished the British heavyweight championship.
"The British Boxing Board of Control will consider the status of the championship later today."
Fury won the titles on points in July 2011 against Dereck Chisora, whose next fight is against WBC heavyweight champion Vitali Klitschko on 18 February.
His last fight was a defence of his Commonwealth heavyweight title in November when he stopped Neven Pajkic in round three in Manchester.
Liverpool's Price, 28, needed only 73 seconds to beat experienced opponent John McDermott in January to claim the English heavyweight title.
Price, who is unbeaten in 12 pro fights, had McDermott down three times before the fight was called to a halt.